Messi shines as Argentina books Copa America semi-finals spot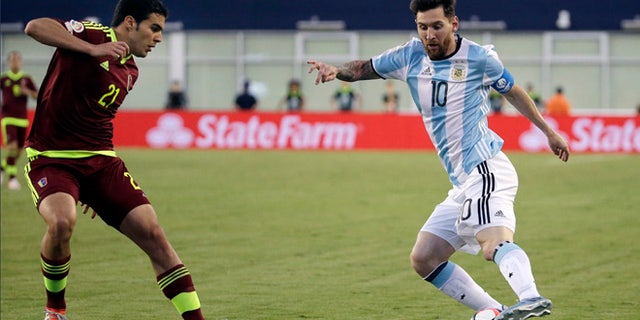 FOXBOROUGH, Mass. (AP) – Lionel Messi had the ball along the sideline, closer to midfield than the goal, in what seemed to be a harmless position.
One well-placed entry pass later, the ball was in the net and Argentina was on its way to a Copa America semifinal matchup with the United States.
"He knows that he's a game-changing player," Argentina coach Geraldo Martino said Saturday night after Messi scored a goal and added two assists to beat Venezuela 4-1.
"Everybody's trying to cancel him. But he knows when to play one against one. He knows when to pass the ball to other players. There may be times when he lets some other player take advantage of this."
Messi's goal in the 60th minute gave Argentina a 3-0 lead and was his 54th in international play, tying the national record set by Gabriel Batistuta, according to Argentina's governing body. The Barcelona star also took over the Copa America scoring lead with his fourth goal despite making his first start of the tournament.
Argentina has two days to rest before playing the U.S. in Houston on Tuesday night. The Americans have been off since beating Ecuador on Thursday.
"I don't think we're too worried about that. We're very focused on our goal," Martino said. "This is not a big deal, the rest time."
With many in the Gillette Stadium wearing No. 10 from Messi's national team and La Liga jerseys, the five-time FIFA Player of the Year started the game after playing a total of just 74 minutes in the three group stage matches. Just eight minutes in, he connected with Gonzalo Higuain on a long entry pass to make it 1-0.
Eight days after recording a hat trick in just 29 minutes against Panama, Messi gathered the ball in at the sideline and lofted a long pass to Higuain, who split two defenders took the ball on a short hop and booted it in.
"We tried to force them to play long balls," Venezuela coach Rafael Dudamel said. "They have that stroke of genius that changes all your schemes. They had an incredible pass from Messi, and they scored. When you lose so early in the game, it's almost like a knockout."
Higuain scored again in the 28th to make it 2-0, picking up an errant backpass by Venezuela midfielder Arquimedes Figuera and sidestepping goalkeeper Dani Hernandez before left-footing it into the net.
In the 42nd minute, Argentina goalkeeper Sergio Romero took out Josef Martinez's legs with a headfirst dive. But on the resulting penalty kick, Luis Seijas tried to scooch it straight up the middle and Romero took a small stutter step to his left before catching it.
Messi made it 3-0 when he took a pass from Nicolas Gaitan just outside the 6-yard box.
Venezuela finally beat Romero in the 70th minute when Salomon Rondon headed the ball in, nicking the post on the way. But Messi assisted again on Erik Lamela's goal a minute later to make it 4-1.
Argentina is 6-2-2 against the U.S., with the teams playing to a 1-1 draw in a 2011 friendly in East Rutherford, New Jersey. The last American win was in a 1999 exhibition in Washington, D.C.
Recovering from a back injury, Messi sat out the group stage opener this year and played just 29 minutes against Panama — but still managed to record a hat trick. He came on as a second-half substitute in the group stage finale against Bolivia on Tuesday.
But Messi played the entire game on Saturday, giving a scare when he was taken down from behind in the penalty box in the first half and was slow to get up.
"We're very happy with the way that he has been evolved, the way that he recovered from his injury," Martino said. "His reinsertion into the team, we really value that, and we're happy to have him in good shape now that we're facing the semifinals."
Martino said he was pleased to see Messi tie the national record, but he would wait to comment on it until the record was broken "and I would like that to happen in the Copa America." With a semifinal and then either a championship or third-place game, that's a good bet.
"I tied it, still haven't broken it," Messi said. "But I'm happy to be next to Bati, with all that means."
Bautista also scored twice in an exhibition against Slovakia in 1995 that is included in FIFA's records but not the national federation's; that would give him 56 goals.
For Venezuela, which finished fourth in the 2011 Copa America, it was a reminder of how far La Vinotinto have to go.
"It's not what we were hoping for, nor what we would imagine," Dudamel said. "We found ourselves watching a very strong team, ranked No. 1, and they have been very unforgiving with our mistakes. When you play an adversary like this, any mistake you make they do not forgive. They just kill you."
Like us on Facebook
Follow us on Twitter & Instagram