Messi has change of heart; says he will again play for Argentina's national team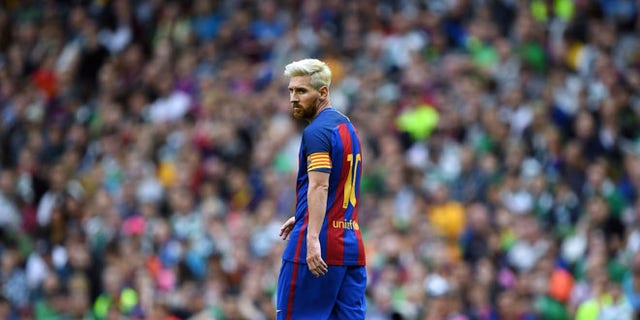 Lionel Messi says he has reconsidered his decision to quit international soccer and will continue playing for Argentina's national team.
Messi says there are "a lot of problems in Argentinian football" but he prefers "to help from within and not criticize from the outside."
He had said he was done with the national team after Argentina lost to Chile in the Copa America final in the United States in June.
"A lot of things went through my mind on the night of the [Copa America] final and I gave serious thought to quitting, but my love for my country and this shirt is too great," the player said in a statement Friday.
Chile beat Argentina in the final for the second straight year, 4-2 in the shootout following a 0-0 tie that ended an expanded 16-nation Copa in the United States to mark the championship's 100th anniversary.
"The national team is over for me," Messi told the Argentinian network TyC Sports then. "It's been four finals. It's not meant for me. I tried. It was the thing I wanted the most, but I couldn't get it, so I think it's over."
Messi, five-time FIFA Player of the Year, winner of four Champions League titles and eight Spanish La Liga crowns with Barcelona, was crushed. Much of his nation had counted on him and the top-ranked Albiceleste to bring home the nation's first major championship since 1993.
Considered alongside Brazil's Pele and Argentina's Diego Maradona as the sport's greatest, Messi won the titles at the under-20 and Olympic (under-23) levels for Argentina. But in the minds of many he needs a championship with the senior national team to solidify his place in history.
"Messi's numbers are unparalleled and I think they'll remain that way forever, because it's impossible for a football player to do what Messi has done," said Chile coach Juan Antonio Pizzi, who is from Argentina. "My generation can't compare him to Maradona — that's for my generation, because of what Maradona did for Argentine soccer. But I think the best player ever played today here in the United States."
Based on reporting by The Associated Press.