MCREYNOLDS: Kahne, Francis Have Hit Their Stride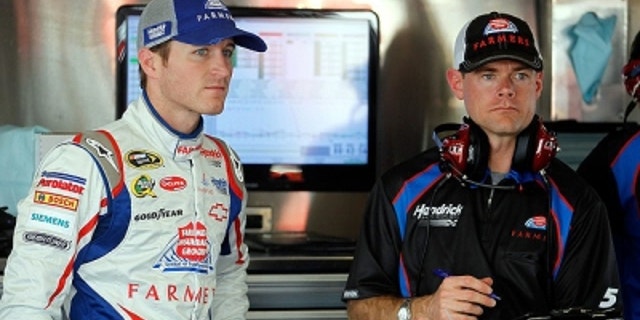 It is safe to say that the performance we saw Sunday night out of Kasey Kahne and his No. 5 Hendrick Motorsports team is something we'd seen coming for about six weeks.
One of the major storylines coming into the 2102 season was Kasey finally getting behind the wheel of the No. 5 car for Hendrick Motorsports.
I was one of the more vocal ones that said it wouldn't surprise if Kahne's team carried the banner for Hendrick Motorsports in 2012. Kahne had a lot of speed in that car even when the team unloaded it in Daytona back in February. The problem early on seemed to be the result of self-induced pressure to live up to expectations. Unfortunately, the team went completely the opposite direction of where it wanted to be the first five to six races of the season.
Then things started to turn and you saw a string of six consecutive top-10 finishes out of Kasey and his team as they slowly rose from the ashes. Sunday obviously was the culmination as the group got its first win together in the Coca-Cola 600.
I even said back then that if you are going to have a problem as a team, this was the best of a bad situation. It had really fast race cars every week. It just seemed early on the team couldn't get out of its own way and didn't make the best decisions.
No one knows that better than Kasey Kahne. Like he said, he had been waiting on this ride for a year and a half. He wanted to go out and win every race. Basically, the team was trying too hard. Early on, Kasey was putting himself and that car in the wrong place at the wrong time.
That's all changed now. I spend a lot of time in the garage area and even the teams with wins under their belts in 2012 are pointing to the Hendrick camp as the team to beat for the championship. Just look at Sunday's results. You had three of that team's cars finish in the top eight and the fourth, Jimmie Johnson, would probably have but for a miscue on pit road.
Hendrick Motorsports is peaking right now and I really don't see that changing any time soon. Even though its taken roughly a third of the season to get that first win, I really don't see Kasey's win Sunday night as any kind of surprise. As I mentioned earlier, we've all basically have seen this coming for weeks.
There was a time this season when Kasey Kahne was 31st in the points. Remember the cutoff for a guaranteed starting spot each week is 35th. So despite his talent, his crew chief's talent and all the resources that Hendrick Motorsports has to offer, Kahne's team was flying dangerously close to that line.
Now Kasey has a win, two poles, six top 10's and three top fives under his belt. He really has come back from being left for dead and is 15th in the points. Even if he can't get to the top 10 in points, having that win in the bank is a critical asset for Kasey in making the 2012 Chase for the Sprint Cup.
What is really impressive when you look at Kasey and his crew chief Kenny Francis, they have now won races for three different organizations with three different brands of cars. They won in a Ford at Richard Petty Motorsports. They won in a Toyota at Red Bull Racing while they waited for the seat in the No. 5 car to open up. Now, obviously, they have won in a Chevrolet for Hendrick Motorsports.
Both Kasey and Kenny have been very vocal that this is the best team with the best resources at the fingertips that they have ever been a part of. You won't find two guys in that garage area that have a better appreciation for what they have than those two. I still maintain the sky's the limit for Kasey in 2012.