McCann reflects on first, and likely last, trip to Turner Field as visitor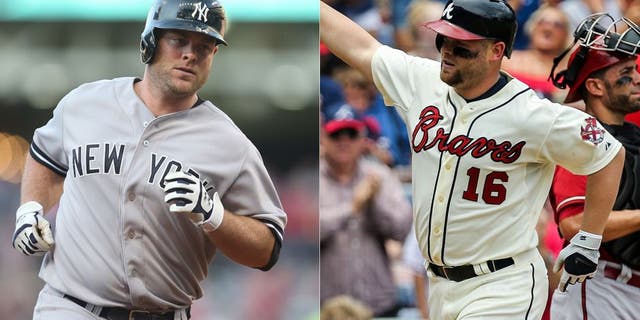 ATLANTA -- Brian McCann made a drive he'd made so many times from his suburban Atlanta home to Turner Field. Only this time when the catcher walked into the stadium he wasn't going into the Braves clubhouse.
"It felt different coming into the other side, going into the visitor's clubhouse for the first time," the Yankee said before Friday's series opener. "Never been in there."
Playing at the park for the first -- and with the Braves headed to SunTrust Park in 2017 -- and likely last time in an opposing uniform, McCann reminisced on what the return meant.
"I'm excited to be back here, to play here at Turner Field where it all started," he said. "I've got a lot of great memories here."
The 31-year-old Duluth High School product spent his first nine seasons in Atlanta, coming up in 2005 as part of the Baby Braves. The collection of 18 rookies, which included Jeff Francoeur and Kelly Johnson, helped extend the franchise's division title streak to 14 straight.
"I remember it like it was yesterday," McCann said. "We all came up at the same time. We were all young. We were thrown into a pennant race and we were big contributors to the reason that we won.
"I think for all of us -- I speak for all the Baby Braves when we came up -- we got a chance to pick Chipper Jones' brain and (John Smoltz) and we were thrown into the fire and we all responded well. We've all gone on to have good major league careers."
Most notably McCann, who hit at least 20 home runs in seven of his eight full seasons with the Braves. He would continue that streak in with the Yankees as he hit 23 in '14 and has 22 this year.
McCann left the Braves after '13, having just helped them capture the National League East, and signed a five-year, $85 million contract with New York.
While he rattled off a number of behind the scenes people he was excited to see again, the Braves, at least on the field, have a very different look than the team McCann left behind.
Only Freddie Freeman, Andrelton Simmons and Julio Teheran are holdovers from McCann's days, with Michael Bourn and Peter Moylan rejoining the Atlanta roster in the last few weeks.
"There's a lot of new faces, but at the same time there's a lot of faces that I came up with, a lot of coaches that taught me how to play this game, taught me how to win," McCann said.
But those lineup changes, which McCann says he's paid attention to from afar, don't make it seem as if it's been less than two years since he left.
"It feels longer than that, especially with the turnover with the players here," he said. "I've only played with a couple of them. It seems longer than it has."
McCann, who made four playoff appearances with the Braves, finds himself in the hunt for another as the Yankees entered Friday 1 1/2 games behind the Blue Jays in the American League East. They have a four-game lead for the first wild card spot.
Returning amid a strong season -- both individually and as a team -- doesn't make being back in Atlanta any sweeter. McCann says he's had this series circled for months.
"When the schedule came out and I saw we were coming back here I got really excited to come back and, obviously, I live here in the offseason," he said. "Got to sleep in my own bed. It was great."
Follow Cory McCartney on Twitter @coryjmccartney