Matt Brown wants either Robbie Lawler or Carlos Condit next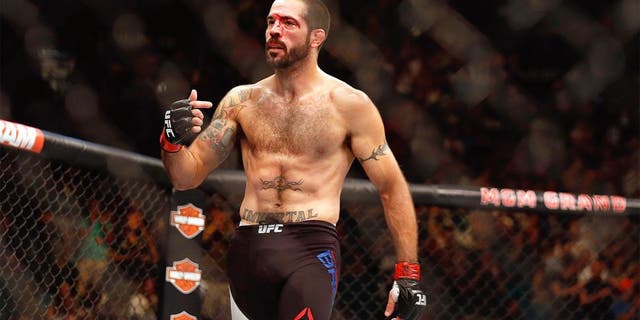 Fresh off an ankle injury and hand surgery, No. 6 ranked welterweight Matt Brown is champing at the bit to get back in action and he has his sights set on one of the fighters competing at this weekend's UFC 195 main event for his return to the Octagon.
Brown is keeping a close eye on the fight between Robbie Lawler and Carlos Condit because he's interested in facing the loser before then hopefully challenging the winner sometime next year.
"I think I should fight the loser of that fight. I can tell you that," Brown said on the latest episode of The Great MMA Debate podcast. "That should be right around my timeline, right around their timeline as long as they don't get f--king mollywhopped or anything. I think it should be a good timeline.
"How bout instead of calling out one fighter, how bout I call out two fighters? I'll fight the loser then I'll fight the winner."
Brown fought Lawler to a close decision when they met in 2014 in the bout that precipitated the current champion's title fight win against Johny Hendricks later that same year.
Brown was actually scheduled to meet Condit as well once upon a time in 2013 although a back injury forced him out of the fight and UFC officials never put the matchup together again.
Currently, Brown is on the mend after having hand surgery to repair some long lingering problems but he hopes to return during the first half of 2016 to build off his last win over Tim Means at UFC 189 in July.
"Looking at mid-February to be able to start testing it a little bit in training. Depending on how it goes in February, probably April to May is probably a non-conservative timeline," Brown said. "Conservative, I'm probably looking at June or July. I'm literally all day, I'm doing stuff to heal this thing."
As far as who Brown believes he'd face if he gets his wish, it's a real toss up considering the skill sets both Lawler and Condit possess going into their fight this weekend.
Ultimately, Brown would be happy to face either fighter but he gives a slight edge to the incumbent champion as he looks to make the second defense of his welterweight title this weekend.
"That's a tough one. I could see it going either way. I think Lawler should win the fight, but I think Condit has a lot of 'X' factors," Brown explained. "He's got a lot of this awkward stuff where as Lawler is really very standard. Sort of how we kind of stood there and banged it out. I threw a couple spinning things but we weren't doing crazy s--t like Condit will.
"I think Lawler may be susceptible to some of that stuff, but if he's prepared and trained properly for Condit, I think he wins."