Manny Pacquiao Hungry to Knock Out Juan Manuel Marquez One 'Last' Time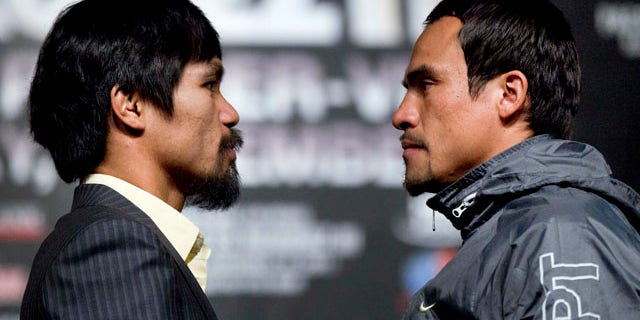 Las Vegas – Manny Pacquiao and Juan Manuel Márquez have danced in the run together so many times there's nothing the two don't know about each other.
And after 36 rounds in the ring — many of which could have been scored either way — there's not much fight fans don't know about the two, either.
So why is fight No. 4 drawing so much intrigue?
That's because Pacquiao is determined to make this meet up their last.
"I think this is the last fight with him," Pacquiao said.
"Last time," agreed trainer Freddie Roach. "We're going to knock him out. End of story."
That might prove difficult because it didn't happen in the first three fights and the general perception is that Pacquiao is beginning to slip, if just a bit. While no one is suggesting Pacquiao is still not a very good fighter, his last two fights were a disputed win over Márquez and an even more disputed loss against Timothy Bradley.
The line in the Pacquiao camp is that the fighter wasn't focused against Márquez last time because of domestic problems and that he was robbed against Bradley. They claim he has something to prove, especially if he is ever to get Floyd Mayweather Jr. in the ring, and has been ferocious in training camp.
Manny's hungrier now. I don't think Marquez has seen the best Manny yet.
"The fourth fight could be the same as the last three, but Manny's hungrier now," Roach said. "I don't think Márquez has seen the best Manny yet."
The rivalry between Pacquiao and Márquez goes back eight years, when they first met for the featherweight title and Pacquiao came out and floored Márquez in the first round. Márquez got up only to go down two more times in the round, yet somehow managed to end the round on his feet.
Márquez would not only survive, but come back to dominate the later part of the fight. He salvaged a draw on the judge's scorecards, the first of three decisions he felt unjustly favored Pacquiao.
They met again at 130 pounds in 2008 and the fight was almost as close. Pacquiao won one scorecard, Márquez the other, while the third judge favored Pacquiao by one point, giving him a split-decision win.
Then they fought last year at 144 pounds and Pacquiao won a majority decision that angered both Márquez and the crowd at the MGM Grand arena, which booed heavily when it was announced.
"Everybody knows what happened the last few fights," Márquez said. "I want to be more aggressive this time, but with intelligence, because Manny is a very dangerous fighter."
That Pacquiao is facing Márquez for a fourth time instead of fighting a rematch with Bradley, who was awarded a decision over Pacquiao in June that was roundly dismissed by most in boxing, speaks both to the economics of boxing and the fact the undefeated Bradley doesn't have much of a following.
Márquez brings the Hispanic audience, which should translate into higher pay-per-view sales, and he also brings a well-earned reputation as the one fighter who can solve Pacquaio's somewhat unorthodox style. He might be an aging fighter at 39, but Pacquiao also has been showing the signs of his 17-year career in professional boxing.
And while Pacquiao is widely acclaimed as one of the great offensive fighters of his era, Márquez might be one of the best counterpunchers. All three of their fights have had tremendous action, and there's no reason to believe the fourth fight will be any different.
That's especially true if Pacquiao — who renounced his drinking and partying ways after having marital problems last year — trained as hard for this fight as he and Roach say.
"I think he has the fire underneath him that he used to have," Roach said. "He had four knockdowns in training camp, which were his first since the (Miguel) Cotto fight. He wasn't so compassionate in sparring this time."
The fight will be at 147 pounds, a full 22 pounds heavier than the boxers were in 2004. Márquez, in particular, appears to have bulked up, leading Roach to question how natural his weight gain really was.
Márquez wore a bulky coat while meeting with reporters Wednesday as if he were trying to conceal his physique.
"Maybe I'm bigger, but I need to be fast, and I need to be quick to win this fight," Márquez said.
Based on reporting by The Associated Press.
Follow us on twitter.com/foxnewslatino
Like us at facebook.com/foxnewslatino