Malzahn refuses to hint at Auburn's starting QB for Kentucky game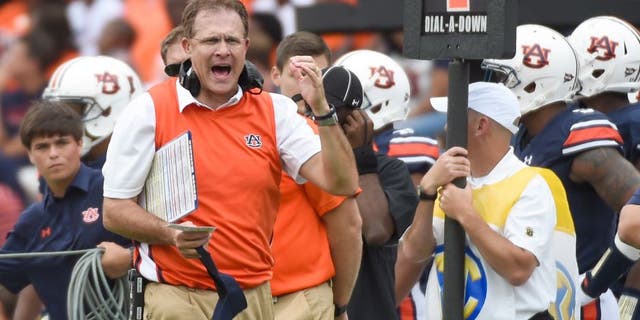 NEWYou can now listen to Fox News articles!
Malzahn is still searching for his starting quarterback with the season at the midway point. Shanna Lockwood USA TODAY Sports
Halfway through October and still searching for the first SEC win of the season, Gus Malzahn and Auburn travel to Lexington to play Kentucky Thursday night. Not exactly the position many saw coming, as the Tigers were selected by the SEC media to win the league outright.
While Auburn's issues cannot be simplified to only one factor, quarterback play has hindered the team significantly in 2015. The position was thought to be a strength coming into the season, as Jeremy Johnson was the first quarterback to be coached by Malzahn and study the offensive system for three consecutive seasons.
Despite their history together, the results have not followed once Johnson became the team's full-time starter.
Malzahn was asked Wednesday who would start for Kentucky but gave no indication of which quarterback it could be.
"We will have a decision before game time tomorrow," Malzahn said. "We'll just see how things go. We just felt like we needed to open up the competition to bring out the best in everybody."
The presumed options are Johnson and redshirt freshman Sean White. White started the last two games but looked far from outstanding in either contest.
"I think both of them have responded," Malzahn said. "I think both of them have improved and that's what we're looking for. The name of the game is improvement."
Another option exists on the roster in athlete Jason Smith. Smith is said to share similar attributes with former Auburn quarterback Nick Marshall.
Could Smith get his first career start this Thursday?
For a team currently ranked 13th in the SEC in passing and 10th in scoring offense, anything is possible. If the Tigers fail to win in Lexington for the first time since 1966, in all likelihood Auburn will not win a SEC game for the first time since 2012.
MORE NEWS: Want stories delivered to you? Sign up for our College Football newsletters.