MadFriars' Player of the Month: Dinelson Lamet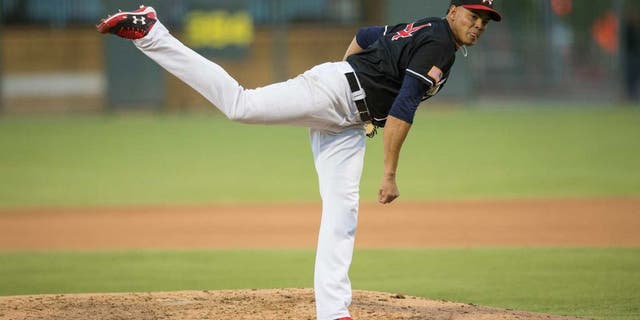 As they have for the past four years, the MadFriars.com team will provide monthly updates on the top performers at every level of the Padres minor league system. These updates are not revisions of their top prospect rankings, but rather news about recent performances worthy of attention.
El Paso Chihuahuas (Triple-A)
After a trio of young stars who are now in the Padres everyday lineup led last years team to the Pacific Coast League title, this years club features a group of more veteran position players. However, the pitching staff has more depth and should help the 2017 team compete again.
Free agent signee Jamie Romak entered the year as the active minor league home run leader, and hes only extended his lead as a Chihuahua. The 30-year-old, who spent last year in Japan, had a minors-best 11 homers in April on his way to a stellar .372/.413/.860 line. In 22 games, he had 19 extra-base hits. Limited to first base at the big league level, Romaks path to Petco Park is extremely tight, but he is not yet in the class of Mike Hessman. Cory Spangenbergs assignment to El Paso to work on the conversion to third base didnt last the entirety of the first month, as his bat forced the issue. The veteran of two big-league seasons posted a .403 on-base percentage and struck out in only 11 percent of his plate appearances.
Coming into the year, Walker Lockett and Dinelson Lamet figured to headline the starting rotation. While Lockett ran hot and cold for the month, Lamet was nothing short of stellar. The big righty posted a 0.45 ERA in four starts, striking out 28 while allowing only 21 runners over 20 innings of work, including a franchise record-setting 13 strikeout performance on April 20.
As good as Lamet was, one-time Dodger top prospect Matt Magill nearly matched him, giving up only five earned runs in as many starts. The 27-year-old, who was the minor league strikeout leader in 2012, only whiffed 20 in his 29 innings, but posted a sub-1.00 WHIP as opponents managed only a .210 average against him. Fellow minor league free agent Logan Bawcom helped anchor the El Paso bullpen, striking out 15 in 12.1 innings.
El Paso Player of the Month: Dinelson Lamet
San Antonio Missions (Double-A)
The offensive story of the system in the seasons first month was Luis Urias, the 19-year-old middle infielder who continued his remarkable ascent through the organization. Demonstrating his uncanny ability to make solid contact with just about anything, Urias posted a .330/.404/.545 line for the month. While he maintains his contact-first approach, he has added significant strength over the last few years and 12 of his team-best 29 hits went for extra bases. While hes played plenty of short through April, he will likely settle in as a second baseman in the big leagues.
As heralded as Urias is, Nick Schulz has been equally anonymous. Signed as an undrafted free agent out of San Jose State in 2014, the outfielder quietly put up a solid campaign for the Missions last year, but wasnt able to step up to Triple-A this spring. A .317/.434/.671 line in April will certainly help his case for the promotion. Massive outfielder Franmil Reyes, long a personal favorite, picked up where he finished last season, putting up a solid 810 OPS for the month.
With strong offensive support, the pitching staff struggled to take advantage. While Enyel De Los Santos had a couple of strong starts, he was also knocked around in a pair, yielding a so-so overall line. With a number of highly-regarded relievers in the pen, it was Charles Nading appearing in affiliated ball for the first time since the Padres released him out of the Arizona League in 2010 who asserted himself as the teams closer with a 1.59 ERA and a fastball in the upper 90s.
San Antonio Player of the Month: Luis Urias
Lake Elsinore Storm (Advanced-A)
The remade California League, which lost its franchises in High Desert and Bakersfield, is still a hitters league, but perhaps slightly less so than in the past. Yet the Storm struggled to get on base consistently, totaling just a .311 OBP.
In a development that the organization widely hoped for, big first baseman Josh Naylor got off to a strong start to the year. The 19-year-old paced the club with a .306 average, .351 slugging percentage and five homers, and drove in 23 of the teams 97 runs before a fluke injury when he was hit in the face by a pickoff throw sent him to the disabled list.
Even with Anderson Espinoza and Jake Nix on the disabled list, the Storm rotation projected as one of the best in minor league baseball. And while last years first-rounders Cal Quantrill and Eric Lauer were both strong, it was fourth-rounder Joey Lucchesi and system veteran Chris Huffman who really shined. Huffman, a 14th-rounder in 2014, had a 2.17 ERA across 29 innings. Lucchesi, a lefty with truly unique mechanics, was virtually unhittable, posting a 0.86 ERA with 27 strikeouts over 21 innings. When opponents did make contact, it was often harmless, as he allowed just a .167 average.
Lake Elsinore Player of the Month: Joey Lucchesi
Fort Wayne TinCaps (Low-A)
The TinCaps have a historically young group of position players on the roster, with four 18-year-olds and 17-year-old Eguy Rosario on the roster. While the aggressive placements have definitely been a challenge for the youngsters, Rosario and Fernando Tatis, Jr. both started to settle in in the second half of the month. Much-heralded Cuban free agent signee Jorge Oa was making the most of his first month stateside with a .305/.369/.424 line before a minor quad injury sent him to the disabled list.
While Brad Zunicas .208 average and ghastly 42% strikeout rate are alarming, the big man also clubbed four homers and drew 14 walks in 16 games to post a team-best .929 OPS for the month.
Logan Allen missed time with a sore arm last summer, so he headed back to the Summit City to open this season. Another month like the first one will make this a short stay. The lefty finished April with a 2.00 ERA and 25 strikeouts in 18 innings. While his 10 walks are too many, opponents hit only .159 and he didnt surrender a home run. While starters Hansel Rodriguez, Will Headen and Jesse Scholtens were all strong in the teams six-man rotation, Jerry Keel outperformed all of them with a 1.93 ERA and stellar 27:4 strikeout-to-walk ratio in 23.1 innings. Squeezed backward in the system because of the depth of starting pitching in Elsinore, Keel will likely get a chance to advance again quickly.
Fort Wayne Player of the Month: Jerry Keel
System Player of the Month: Dinelson Lamet
Lamet has a combination of elite natural ability and supreme self-confidence. Working with a fastball that can hit the upper 90s, a slider that ranges from above average to plus, and a change-up that hes using more effectively. While he wont be able to sustain the video game numbers hes posted so far, he has answered any remaining questions about whether he can stay in the rotation and asserted himself as a viable option when an opportunity arises in the big leagues this season.
Follow all the Padres prospect news at www.madfriars.com or @MadFriars on Twitter.