MacDonald on the spot in Detroit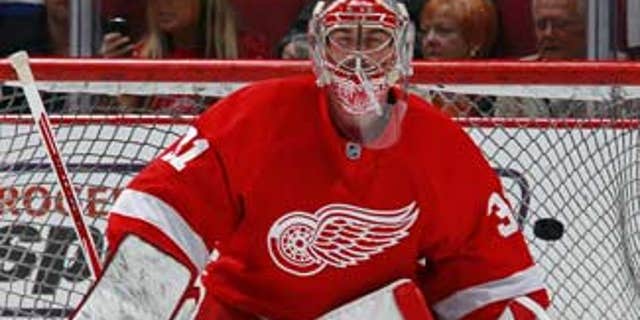 DETROIT -- He's the reason Detroit Red Wings fans started chewing their fingernails in unison last week, when it was announced that veteran goalie Chris Osgood was being put on long-term injured reserve.
Without the 38-year old Osgood -- who's won three Stanley Cups with Detroit -- it means that 31-year old Joey MacDonald will back up starter Jimmy Howard until at least April 8, when Osgood will first be eligible to return.
In reality, MacDonald might be around through the playoffs if Osgood's surgically-repaired groin doesn't heal enough in time -- which leaves MacDonald just one serious injury away from starting full-time.
You can imagine the anxiety level, then, this past Saturday at Joe Louis Arena when Howard left a game against the Toronto Maple Leafs in the third period with a shoulder injury. Even Howard was worried until an MRI confirmed that it was just a minor shoulder sprain.
MacDonald, who will start Monday night's game against the Chicago Blackhawks, didn't have time to think about the potential long-term ramifications while coming in to get a win in relief against Toronto.
He has, however, thought about the "what if" scenario heading toward the postseason.
"You always think about that, but right now I'm just trying to think about the next day," said MacDonald, who's staying in a Detroit hotel while his wife and two kids are in Nova Scotia. "It's just one of those things where you've got to be ready at all times. (Howard) skated a little today, so that was great for everybody, with him not being seriously injured."
Howard said he's eyeing a return on Wednesday against the St. Louis Blues or Saturday on the road against the Nashville Predators, but in the meantime is confident MacDonald will play well against the Blackhawks -- who are currently eighth in the Western Conference and third in the Central Division.
Rookie Thomas McCollum, 21, will be MacDonald's backup after being called up from Toledo of the ECHL.
"Hopefully we'll get (Howard) back in the lineup in the next few days, but for now it's my opportunity to play a game or two here," MacDonald said. "The last few I've played have gone pretty well. I've just got to keep rolling. This is why I wanted to be here, to get an opportunity to play important games, and there's no better time of the year to do it."
MacDonald has played 85 games in the NHL for four separate teams, but after signing a two-way contract with the Red Wings last summer he's spent time in both Detroit and Grand Rapids of the American Hockey League.
Making the two-hour cross-state drive hasn't been a regular occurrence though, since Osgood first went down Jan. 10 with a sports hernia injury and has yet to return. MacDonald has been with the Red Wings for 47 games and played in 13 -- going 5-4-2 with a 2.05 goals-against average and .928 save percentage.
"It's been going great," MacDonald said. "I've been here pretty much all year. Fortunately enough, I've got an opportunity to play quite a few games here. It's all worked out in the long run and hopefully this is a time where you've got to take advantage of an opportunity."
Franzen, Bertuzzi to play: Detroit forwards Johan Franzen (groin) and Todd Bertuzzi (back soreness) will both play against Chicago on Monday. Franzen missed four games, but participated in Detroit's morning skate, while Bertuzzi will be playing his second straight game since missing a game against the Vancouver Canucks last week -- which was his first missed game as a Red Wing.
Center Pavel Datsyuk also skated with the Red Wings on Monday, but will not play. He's eyeing a possible return to the lineup Wednesday against the St. Louis Blues or Saturday against the Nashville Predators.
"It looks like we're going to get all the guys back (before the playoffs)" Franzen said. "So it's all just a matter of finding our game and starting to play really well here at the end."
Franzen rooted for Hawks: The Red Wings have a television commercial in which Johan Franzen is first seen stringing up a "Welcome Blackhawks" banner outside the visitor's locker room at Joe Louis Arena -- and then tearing it down at the end of the commercial, once the fictional game was about to start.
Yet Franzen and several other Red Wings have said they cheered for the rival Blackhawks to win the Stanley Cup against the Philadelphia Flyers last season -- especially for former teammate Marian Hossa, who'd tried and failed to win the Cup Final in back-to-back years with the Pittsburgh Penguins and Red Wings before joining Chicago.
"Yeah I was (rooting for Chicago)," Franzen said. "For Hossa most of all. I thought he really deserved to get one finally. It was nice for him. I liked the way they played all year. They had a great team. Good for them."
Hossa said he got congratulatory text messages from some former Detroit teammates after winning the Cup, which meant a lot to him.
"That shows they're a class act," he said. "I know those guys very well, playing (in Detroit), and they're great guys. When you hear something like (Franzen rooting for him) or get a couple text messages -- that put a smile on my face. I appreciated it."
Crawford aiming for 30-win mark: It's a milestone that's important to goalies, and Chicago rookie Corey Crawford is no exception.
He's currently sitting on 29 wins and would love nothing more than to get his 30th against the Red Wings in Joe Louis Arena on Monday night.
"I think it's important," he said. "You always want to win every game, but 30 wins is pretty key for a goalie, I think. Obviously you want to be on that end as opposed to the other end of it. But I'm not so much focused on that -- just more on winning tonight because the (standings) points are more important. It's getting down to crunch time here and there's not too much time left."
Tight race getting Hawks ready: The Blackhawks have their "core group" of players who actually helped win the Stanley Cup and they also have a sizeable group of new and young faces that haven't even tasted the playoffs yet.
Coach Joel Quenneville said he's hoping the final stretch run of the regular season will help prepare them for what the playoffs are like. Chicago is currently eighth in the West and battling every game to hang onto a playoff spot.
"It can only help, absolutely, playing in big games and feeling the build-up and all the hype and all the excitement going into it," Quenneville said. "I think there's some responsibility in knowing that when you're out there for big shifts, you welcome that situation. We learned our own lessons this year, as we started out in the beginning of the year -- when we left a lot of points on the table in third periods. We want to make sure we're better in that area (now)."
McCollum happy to be back: McCollum, Detroit's first pick in the 2008 Entry Draft (No.30), made the short drive up I-75 from Toledo on Monday morning to be the Red Wings' back up.
After struggling and playing in just 17 games with Grand Rapids, he was sent down to Toledo of the ECHL, where he's played much better in five games (3-1-0, 2.55 GAA, .913 save percentage).
"It's been a pretty up and down season," he said. "I think the biggest thing for me is just getting confidence and maintaining it. I'm still only 21. I think a lot of people tend to forget that with me. Jimmy (Howard) didn't break into the League until he was 25, I think, so time is definitely on my side. I know I can play at this level. It's just maintaining my confidence level."