Leonard Wood reflects on his Talladega success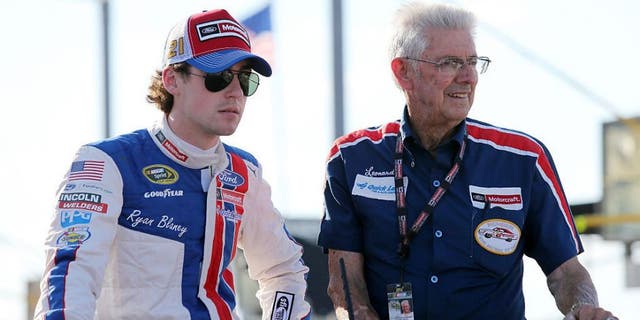 NASCAR Hall of Famer Leonard Wood has been a part of the sport since its founding days, so when he has something to say, you sit down and listen.
He recently sat down with Jeremy Bullins, current crew chief of the No. 21 Wood Brother Racing Ford, to talk about his success at Talladega Superspeedway with David Pearson in the 1970s.
"Watching David Pearson drive down there was so much fun," Wood said. "I think he won three in a row at the Winston 500. That's one track you always have to look ahead, and he could almost sense danger.
"He would sit back there and then several times they'd have a money lap at the halfway mark, and he'd pull up there and go into the lead and take the money, then he'd sit back there and cool it."
In addition to Pearson's three straight wins, the Wood Brothers went to Victory Lane two other times at Talladega -- 1971 with Donnie Allison and 1980 with Neil Bonnett.
"It's a very demanding track with watching what's going on ahead of you, looking at the draft and all of that," Wood said.
His current driver, Ryan Blaney has appeared to find a little of the magic in that 21-car as he's finished fourth and ninth in both spring races he's competed in at the superspeedway. In last year's fall race, he finished last because of engine trouble after starting ninth.
At age 82, Wood has spent the majority of his life around stock car racing and helped revolutionize the modern-day pit stop, but even he couldn't fathom the speeds when he saw racing over 210 mph at 'Dega.
"It was so fast and they were tearing up tires," Wood said. "A little later on when they were going 212 miles per hour, I remember watching the cars down the back straightaway, I thought there was no way the car will be able to turn and come back this way. It's going so fast in that one direction."