LeBron already in championship form as Cavs prepare for next round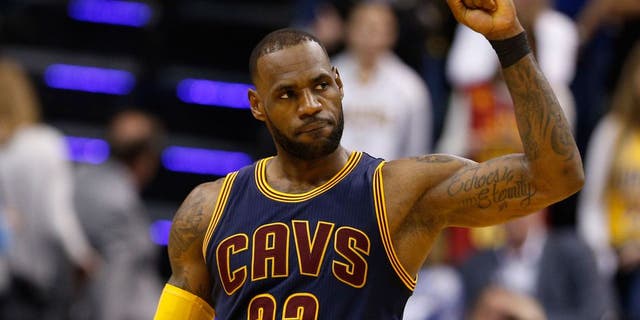 NEWYou can now listen to Fox News articles!
INDIANAPOLIS (AP) -- The Cleveland Cavaliers finally caught a break.
After struggling through the final weeks of the regular season and losing the No. 1 seed in the Eastern Conference, the NBA defending champions assured themselves of getting a little more rest. They can use it.
"We have some good miles on this team, some guys who have played in a lot of postseason action," All-Star Kevin Love said after grabbing 16 rebounds and completing a first-round sweep at Indiana. "Getting a good week will allow us to get some rest and when we do find out who we play, we'll be able to be sharp and ready to go."
Right now, that's all Cleveland can do.
While the extended rest could help a veteran, playoff-tested team stay fresh, that's a tack coach Tyronn Lue has employed all season when it comes to his three biggest stars -- Love, LeBron James and Kyrie Irving.
James also understands the danger. Just eight wins short of a third straight trip to The Finals, Cleveland cannot afford to get stale.
Fortunately, James already is in championship form.
He finished with 74 points, 23 rebounds and 16 assists in the final two games of the Indiana series, virtually willing the Cavs to two wins. And he continues to break records, climb the career lists and even stretch bounds of credulity with ridiculously good play.
James almost single-handedly led Cleveland back from a 25-point halftime deficit, the largest second-half comeback in playoff history and then made every big play over the final 90 seconds Sunday.
"Game 3, that probably will go down for all of us as a historic moment," Irving said. "The ability for our guys to come in and come out and be ready and be the consummate professional, to come out with a win like that and for LeBron to put on a performance like that is nothing short of special."
Cleveland's supporting cast is doing its job, too.
James, Love and Irving all topped the 25-point mark in Game 2 and the bench chipped in with a terrific fourth-quarter performance in Game 3. On Sunday, Deron Williams scored 14 points off the bench. Plus, the Cavs are relatively healthy.
That's good news.
The problem: Cleveland also struggled to close out all four games against the seventh-seeded Pacers.
The cumulative victory margin, 16 points, was tied for the lowest in a four-game sweep in playoff history. Three times, the game came down to the final minute, when James thrived.
Couple that with the season-long defensive concerns and the offensive woes Lue identified from Game 4, and it could lead to even greater challenges against better teams deeper into the postseason.
But Cleveland passed its first real test without losing a game, and now the Cavaliers have time to fix the flaws.
"We're capable, but we already knew that and when we lock in, we're a very tough team to beat. Once again, we knew that as well," Love said. "So we just learned that we're going to get everybody's best shot and we've got to go out there and fight for everything we get."
It's enough to put everyone's mind at ease as they wait to find out their next opponent.
"Now we get into our post-series activity and wait to see who we play next," Love said.