Lambert praises UGA defense: 'I just wanna win'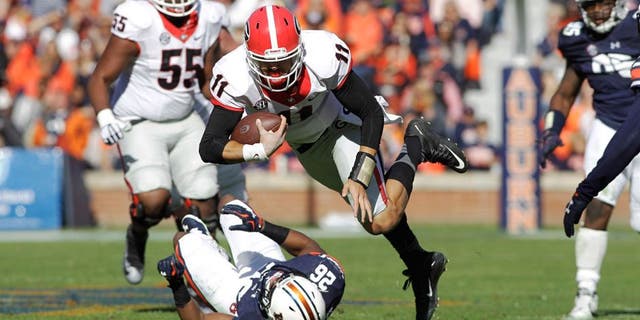 The stats don't define the importance of Lambert in the Bulldog offense. John Reed USA TODAY Sports
Georgia went on the road and won its seventh game of the season thanks to the second half effort of the defense and a gutty, albeit unspectacular performance from starting quarterback Greyson Lambert.
The Bulldog quarterback completed only 12 passes for 97 yards but did not turn the ball over and had a 13-yard run on third and long to keep a scoring drive alive against Auburn. The Tigers were held to only three points in the second half, the same number of turnover surrendered to the Dawg defense.
"We leaned on them hard and heavily today," said Lambert.
"I just wanna win. I've only thrown for 300 yards once in my career. At the end of the day some of our coaches say it's a bottom-line business. I just want to win football games. I'll do what I can to help us win, whether that's against South Carolina throwing for 300 or if it's like today throwing for 90-something."
If the defense can continue to play at such a high caliber and Lambert continue to play mistake free football, Georgia can expect to continue to win, as the Dawgs will be heavy favorites against Georgia Southern and Tech to close out the season.