Kurt Busch's game plan for the Chase: 'Don't run into anything too hard'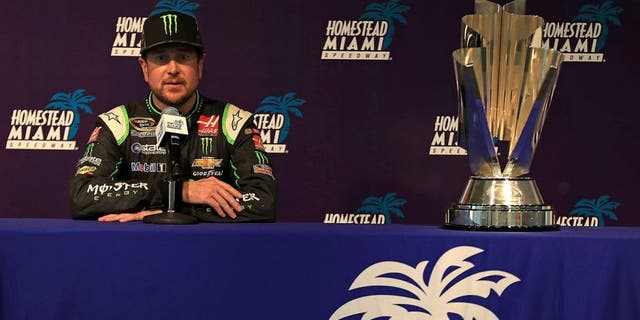 Kurt Busch has flown under the radar throughout the 2016 NASCAR Sprint Cup Series season, and that same trend has continued in the Chase.
Busch has recorded a pair of top-fives and has finished no worse than 15th in the first five races of NASCAR's version of the playoffs.
The No. 41 Stewart-Haas Racing driver is also one of five Chase drivers, including Brad Keselowski, Carl Edwards, Chase Elliott and Austin Dillon, to take part in a two-day organizational test session Tuesday and Wednesday at Homestead-Miami Speedway, which plays host to the season-ending championship race.
In order to be one of the final four drivers competing for the Sprint Cup title in South Florida, Busch feels you need to have a good balance between going all-out for the win and racing cautiously.
"There's an old adage of racing conservatively aggressive," said Busch. "Mostly importantly, it's about racing smart and racing to the car's limits."
This weekend's elimination race at Talladega Superspeedway will be a wildcard for all 12 Chase drivers. But, Busch heads to the 2.66-mile restrictor-plate track in control of his own destiny, though. He currently has a 17-point cushion over Joey Logano and Austin Dillon, who are tied for the eighth spot in the Chase standings.
If Busch is able to finish 16th or better in Sunday's Hellmann's 500, regardless of where the other Chase drivers end up, he will advance to the Round of 8 automatically.
"Last year, we came out of Kansas with a top-five finish and a 13-point cushion," Busch said. "This year, we have a 17-point cushion after finishing 13th. It's a numbers game, and we feel very comfortable where we sit."
Although he's in a good spot, Busch is well aware of how difficult it is to stay out of trouble at Talladega.
"Sixteenth or better is the same as sixth or better, or 36th or better, because you never know when you can get caught up in that 'Big One' and end up 36th or worse," he added. "It's nice to have points in our pocket. That's the best feeling."
And he also realizes that drivers on the outside of the Chase cutoff looking in will be in full-blown survival mode.
"Chase Elliott has nothing else to do but win. (Brad) Keselowski … the best thing he can do to advance is win. You have (Austin) Dillon and (Joey) Logano who are tied in points at the cutoff," Busch said of the other Chase contenders.
"There's going to be a lot of emotional things you see on the track. You have to digest those quickly, move on, figure out the set up on your own car and protect the points position that you have. If we were in a different position, we would have a different mindset, too."
After finishing 13th in the Hollywood Casino 400 at Kansas Speedway, Busch also noted an overlying philosophy for advancing to the championship round in November.
"My goal, and it's sarcastic … don't run into anything too hard," Busch said. "If we don't run into anything too hard, we're going to be OK. Next week, if we survive Talladega and survive, and survive Martinsville without running into anything too hard, we'll be alright."