Juventus made a 90 million bet on Gonzalo Higuain, and it's paying off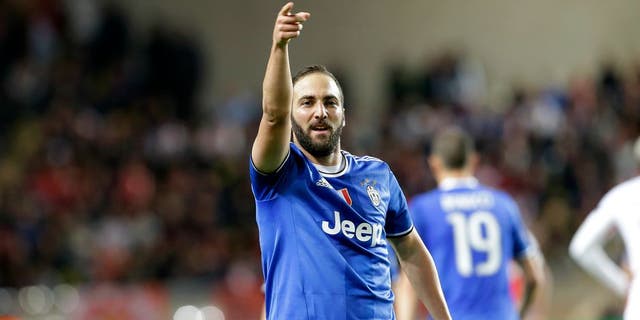 It cost Juventus 90 million to bring Gonzalo Higuain to Turin. The Argentine had just come off a record-breaking 36-goal season for Napoli and he was one of the hottest strikers in the world. But paying an Italian record transfer fee for a near-30-year-old player with a reputation for bottling on the biggest stage directly after selling young phenom Paul Pogba off looked like a disaster in waitingfor a Juventus.
Yes, Higuain was a proven hitman, and his goalscoring resume was undeniable. He'd scored 121goals for Real Madrid, and a further 91for Napoli. But this was the same Higuain who'd become known for crucial misses on the biggest stage, most notably during the 2014 World Cup final when his one-on-one with Manuel Neuer early on set the tone for Argentina's eventual loss to Germany.
And for 90 million? The Old Lady could have signed most anyone in the world for that money and they chose Higuain, a player nobody would call one of the best strikers there is.
ThatHiguain was the type of player Juve needed was never in doubt.Paulo Dybala gave them a diabolical creative player, Miralem Pjanic a much-needed central midfielderand Dani Alves took over at right back, filling every need The Old Lady had except one -- striker. And they were desperate to patch that hole.
Juventus were coming off of adisappointing Champions League quarterfinal exit at the hands of Bayern Munich last season. Just a year before that, Juve had made it all the way to the final, only to fail at the last, losing to Barcelona. It was the closest Juve had come in years to a trophy they haven't won since 1996, and the disappointment was unbearable in Turin.
They managed to come close without a go-to striker. Now Higuain was going to fix that,or at least he better. For the money Juventus spent on him, the already sky high expectations for Higuain seemed impossible to reach.
There was only one way for Higuain to make 90 million worth it -- win Juventus a Champions League.
Fast forward to May, and Gonzalo Higuain's scored 31 goals in a Juventus shirt, making him the club's first 30-goal scorer since David Trezeguet 15 years ago. His goals have Juventus nine points clear at the top of the Serie A table with four matches to go and into the Coppa Italia final.
So far, Higuain's met all theexpectations heaped on his shoulders. He might have even exceeded them.
But goal tallies weren't going to be enough and Juventus didn't break their transfer record just to win Serie A for the sixth time in a row. The Old Lady are obsessed with adding the third Champions League trophy to their trophy case, and Higuain's purchase was directly in pursuit of that goal.
So far, he's delivered.
Higuain's goal against Lyon was the one that helped rescue a point and ensure Juventus would stay top of their Champions League group. He got goals against Dinamo Zagreb in both group stage fixtures, but it was his all-around game that's come to the fore on the European stage.
Despite not getting on the scoresheet in the first two knockout rounds against Porto and Barcelona, Higuain's been the consummate team player. Playing as the lone striker in Juventus' new 4-2-3-1 formation, he's been tasked not only with being Juventus' outlet and finishing off attacking moves as the spearhead of their team, but with working nonstop on the defensive side of the ball as well. He's moved into that role seamlessly, and he's played a key part in the fact that Juventus haven't conceded a goal in over 600 minutes, including two legs against Barcelona.
Even though he's been fantastic as a team player, the criticism wouldn't stop for Higuain if he was just hustling extra hard and laying on assists. For 90 million, he had to score them too.
Against Monaco, he did exactly that.
Juventus traveled to Monaco for the first leg of their semifinal. His day started like a nightmare, and two early missed chances had the internets grumbling and joking about Higuain's bottling ways once again. After 28 minutes though, all the grumbling and jokes stopped. Pipita's instinctive, sweeping finish made it 1-0 for Juve. On 59 minutes he made it 2-0, and put Juve one step closer to that ever-elusive Champions League goal.
If Juventus can finish off Monaco -- and up 2-0 going home there's no reason to think they can't -- then it will be on Higuain's shoulders.
He's beeneverything Juventus could have hoped, but, but it won't matter one bit if Juventus don't win Champions League. Just getting this far isn't good enough anymore, and for Pipita to truly be considered a success he's got to help deliver the trophy with the big ears. It doesn't matter if he scores the goals, lays them on, or hacks them off the goal line. He just has to help bring it to Turin.
The good news? He's right on track.