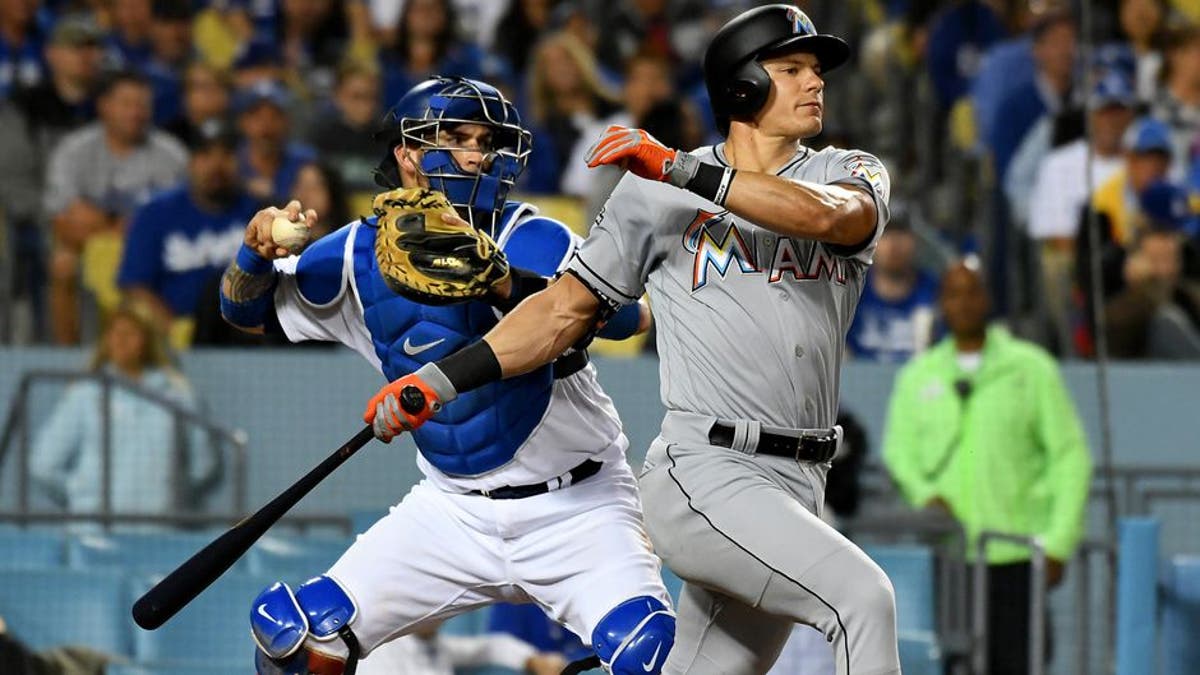 LOS ANGELES (AP) -- Justin Turner left in the seventh inning after injuring his right hamstring, curbing the celebration for the Los Angeles Dodgers after a 7-2 victory over the Miami Marlins on Thursday night.
Turner was hurt running from second base to home in the seventh inning. He appeared to injure the leg while rounding third base and grimaced in pain. He grabbed the back of his leg and hobbled off the field with a trainer and manager Dave Roberts.
Turner was hitting .372 with a homer and 17 RBIs entering the game.
Yasiel Puig, batting eighth, hit an 0-1 pitch from Edinson Volquez (0-6) into the left field seats to give the Dodgers a lead in the second inning.
Kenley Jansen entered with two on and two outs in the eighth and struck out all four of his batters for his eighth save.
The Marlins (14-26) continued their slide, losing their fourth consecutive game and nine of the last 10.
Dodgers left-hander Hyun-Jin Ryu (2-5) took a grounder off the leg on a ball hit by Justin Bour in the sixth inning. Roberts and a trainer went to the mound, and after a quick conversation, Ryu's night was done. Ryu also got hit by a pitch on his right hand while trying to bunt in the fourth. He helped his own cause in the third with a double to right and scored from second on Chase Utley's single.
Ryu threw 5 1/3 innings and allowed two runs on seven hits -- two of which were home runs. Although he's pitched well, Ryu may soon be the odd-man out in a deep Dodgers rotation.
Justin Bour hit a solo home run to right in the second inning. Christian Yelich homered to left-center field in the third. The Marlins had runners on base in the fourth, fifth and sixth innings, but couldn't score.
Adrian Gonzalez was back in the lineup for the Dodgers after being activated from the disabled list with elbow soreness. Gonzalez hit a sharp single to right field in the third inning.
"I think he's close to 100 percent," Roberts said before the game. "Timing-wise, he felt he could come back and help us. We have an off day Monday. We can still manage him."
TRAINER'S ROOM
Marlins: RHP Tom Koehler (bursitis right shoulder) was placed on the 10-day disabled list. … LHP Wei-Yin Chin (arm fatigue) traveled with the team to Los Angeles, and doctors are discussing his situation and options.
Dodgers: INF Logan Forsythe (toe, hamstring) is nearing a return, possibly Sunday but more likely Tuesday after the team's day off Monday. … RHP Kenta Maeda (left hamstring tightness) will throw four innings tomorrow in a rehab start in Class A Rancho Cucamonga and is expected to make his next start next week against St. Louis.
UP NEXT
Marlins: LHP Justin Nicolino (0-0, 1.50 ERA) threw 7 1/3 scoreless innings in his season debut at Dodger Stadium last year. Nicolino has made one start since being recalled from Triple-A New Orleans. He had a quality start against the Braves, allowing one run in six innings.
Dodgers: LHP Alex Wood (4-0, 2.27 ERA) is coming off earning NL player of the week honors after pitching 11 scoreless innings and striking out 21 during that stretch. In his last start he recorded his fourth-straight win after six scoreless innings at Colorado. He's the only Dodgers starter without a loss this season.