Julianna Pena wants to pursue new UFC women's flyweight title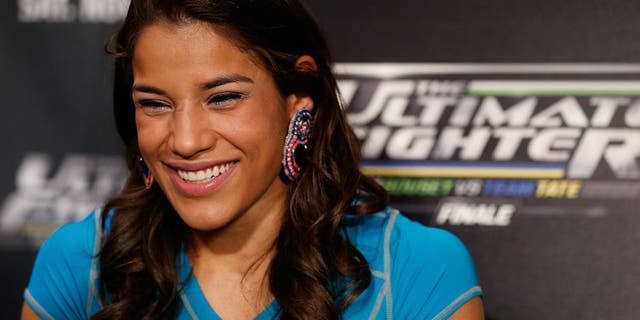 Former "Ultimate Fighter" winner Julianna Pena has made a name for herself as one of the best women's bantamweights in the world, but it appears her future may lie at 125 pounds instead.
Just recently the UFC announced plans to launch a women's flyweight division with the next season of "The Ultimate Fighter" crowning the first ever champion at 125 pounds with filming expected to begin in July.
Pena is well aware what it's like to go through that reality show after winning season 18 but now she would like nothing more than to return with the opportunity to win a UFC title when it's all over.
While Pena has been nearly unstoppable in the women's bantamweight division with a 4-1 record including wins over former title contender Cat Zingano and Jessica Eye, she still believes competing at 125 pounds would be the best thing for her.
According to Pena, she doesn't cut much weight at all to make the 135-pound limit so competing at flyweight would just mean she's finally facing fighters relative to her in size.
"I think the biggest change would be for me is to probably cut the weight is the biggest problem, but I don't honestly dont think it is a problem. Because during fight week at 135, I'm literally 137, if that not even, and I'm walking in there with not even cutting a pound so I really don't think the weight would be an issue for me," Pena explained.
"I think I'm a more natural 125'er. At 135, I feel like that's my more normal walking weight so it makes sense for me that they finally the MMA gods have been listening and made a 125-pound division."
Harry How/Zuffa LLC
As far as returning to "The Ultimate Fighter", it's not something many fighters would consider due to the show filming in Las Vegas for six weeks with the competitors having no contact with the outside world whatsoever during that time.
Many fighters might scoff at that opportunity but don't count Pena among them.
Pena says she welcomes a return to "The Ultimate Fighter" and living in the house for six weeks, especially if the gold at the end of the rainbow is a chance to finally compete for a UFC title.
"I would love the opportunity to go back into "The Ultimate Fighter" house," Pena said. "There's never a moment where you get to eat the best food in the world, you can live in a mansion and not pay rent, you don't have any of your bills, no drama from the outside and you really get to focus on yourself as a fighter for the first time without any outside focuses or any outside stimulation from the other people you have to deal with. It's all about you, two times a day, eating the best food and getting the best training that you can possible get. So it was a great experience for me."
The UFC has stated that the new season of "The Ultimate Fighter" will be open to athletes already on the roster so Pena would certainly qualify if she wanted to pursue the inaugural flyweight title.
Tryouts for the new season will be held in May before a final cast is assembled with filming beginning in July in Las Vegas.
Jeff Bottari/Zuffa LLC | Zuffa LLC via Getty Images