Jorge Masvidal now faces Benson Henderson in UFC South Korea main event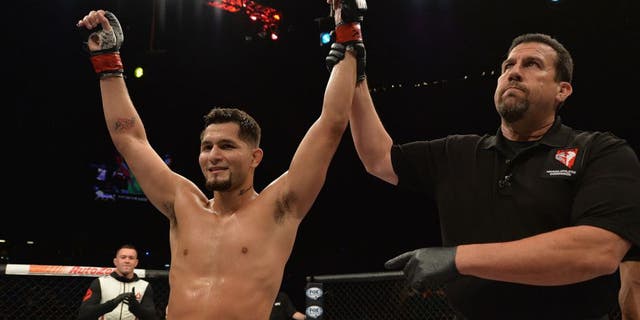 LAS VEGAS, NV - JULY 12: Jorge Masvidal reacts to his victory over Cezar Ferreira in their welterweight bout during the Ultimate Fighter Finale inside MGM Grand Garden Arena on July 12, 2015 in Las Vegas, Nevada. (Photo by Brandon Magnus/Zuffa LLC/Zuffa LLC via Getty Images) Brandon Magnus/Zuffa LLC
Following an injury to Thiago Alves, Jorge Masvidal will step in to face former champion Benson Henderson in the five-round headline fight at the UFC's first card in South Korea.
The new bout was announced as part of the UFC 193 prelims on FS1 on Saturday night.
Masvidal was already slated to be part of the card from South Korea in the co-main event against Dong Hyun Kim but when his American Top Team teammate suffered a rib injury that forced him out of the fight, UFC officials offered him the top slot instead.
Masvidal just recently bumped up to 170-pounds where he defeated Cezar Ferreira in his debut and now he will look for another win as he faces a former lightweight champion in Henderson, who will also be making his second appearance in the welterweight division as well.
As of now, UFC officials have not found a replacement to face Kim in the co-main event but a search is underway currently.
The UFC Fight Night card from South Korea will air on UFC Fight Pass on Saturday, November 28.