Jimmie Johnson wins pole for Phoenix Sprint Cup race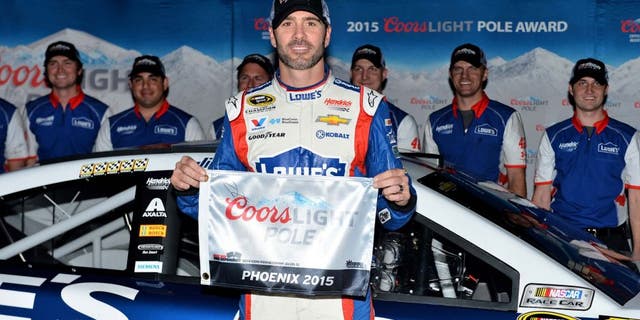 NEWYou can now listen to Fox News articles!
AVONDALE, Ariz. -- Jimmie Johnson is doing his best to play spoiler now that his championship chances are done.
The six-time NASCAR champion was eliminated from the Chase for the Sprint Cup championship in the first round of the playoffs. But his win last week at Texas denied Brad Keselowski a spot in the finale, and now he's on the pole for the final elimination race.
Johnson turned a lap at 143.158 mph in qualifying Friday to win the pole at Phoenix International Raceway. His effort kept Kurt Busch, who is still in the Chase, from the top starting spot for Sunday's race.
There are seven drivers vying for three spots next week in the title-deciding finale at Homestead-Miami Speedway. Only Jeff Gordon has clinched a berth in the final four.
"There's nothing better," Johnson said. "If you can't be in it, you may as well go out there and spoil it."
Johnson has five wins this season, but a mechanical failure in the first elimination race of the Chase bounced him from the playoffs.
Busch was second and the highest-qualifying driver still eligible for the championship. Busch led the second round of qualifying with a track record speed of 142.982 mph, but he was bumped from the pole in the third and final round of qualifying.
Busch likely needs to win Sunday to advance to the final four.
"The car has speed," Busch said. "We've got to stay focused on getting this 41 car punching its ticket down to Homestead."
Dale Earnhardt Jr., Johnson's teammate at Hendrick Motorsports who was eliminated from the Chase in the second round, qualified third.
Carl Edwards qualified fourth and was followed by Martin Truex Jr. as two drivers trying to advance into Homestead landed inside the top-five.
"We had a fast car and I'm excited to go race now. We have a good starting spot, which was our first mission," Edwards said. "Obviously, we want to be better than fourth, but we're close enough to the front that we have a good pit stall selection."
Kyle Larson was sixth and followed by Erik Jones, who is driving for Matt Kenseth as Kenseth serves a two-race suspension for intentionally wrecking Joey Logano at Martinsville.
Kevin Harvick, winner of four consecutive races at Phoenix and five of the last six, qualified eighth. Most of the title contenders believe they are chasing Harvick on Sunday.
That's not great news for Team Penske, which is facing a dire situation with Keselowski and Logano. Both likely need to win to make it to the finale, and only one of them can go to victory lane. There are mathematical possibilities that both drivers can make the final four, but it's a longshot.
So it didn't help when both failed to advance out of the second round of Friday qualifying.
Logano will start 14th and Keselowski 18th,
Asked where Penske was off in qualifying, Logano was practical: "In the speed department, somewhere," he said. "We need to find quite a bit more speed to go faster."
Keselowski, who dominated at Texas only to be run down in the closing laps by Johnson, knows his work is cut out for him at Phoenix. He was eliminated from the Chase in this race a year ago, and had the finale within his grasp until Johnson spoiled it for him last week.
"We're in Day 1 of a three-day weekend. I dominated all but the last 5 percent of Texas, so that shows the weekend is not over `til it's over," he said.