Jerry Jones really wanted to draft QB Paxton Lynch in the first round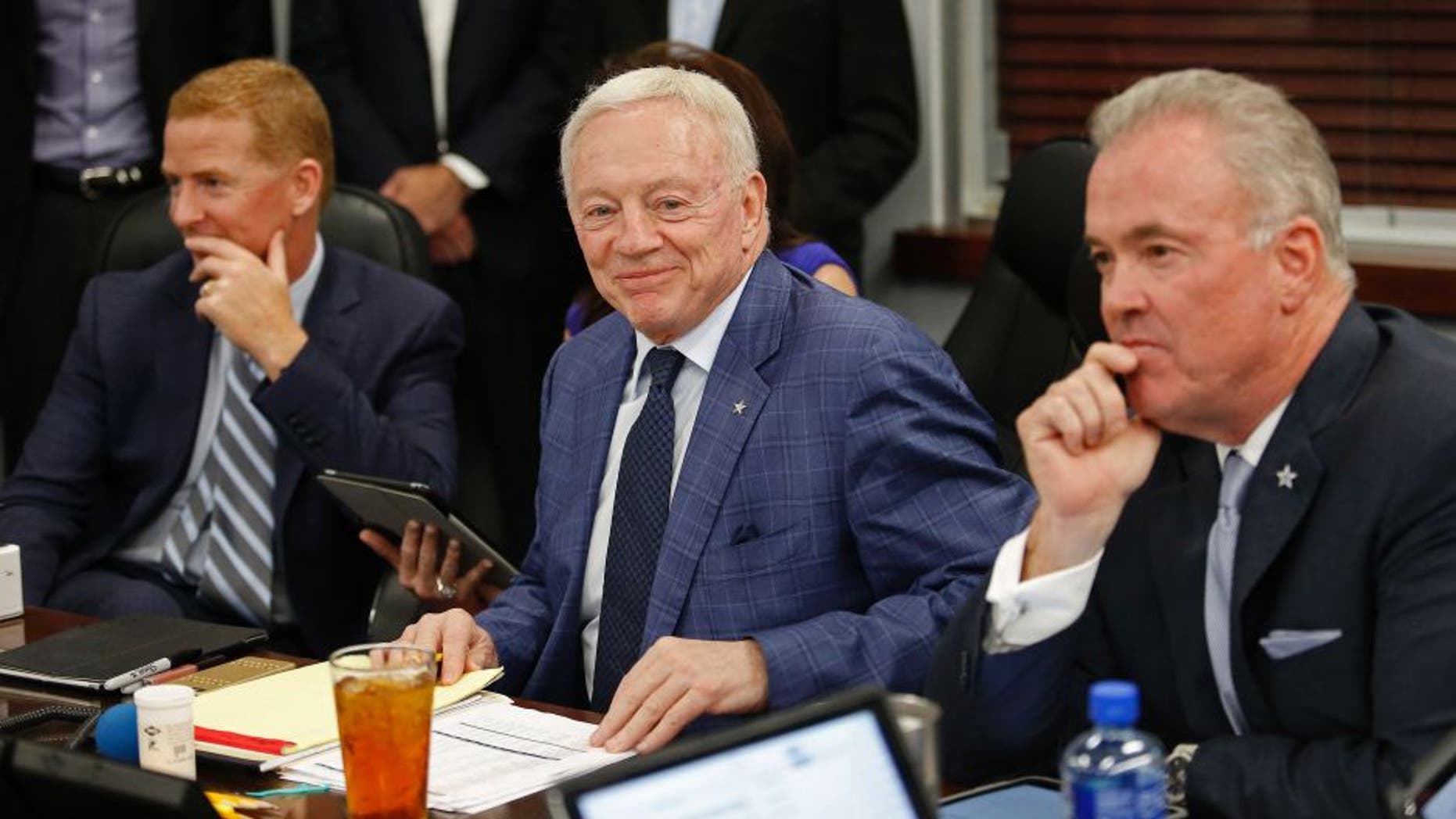 Jerry Jones doesn't always get what he wants at the NFL Draft, and sometimes that's a good thing.
On Thursday night, the Dallas Cowboys owner wanted to draft a backup for Tony Romo in the first round, but ended up with a replacement for DeMarco Murray instead.
The Cowboys drafted Ohio State running back Ezekiel Elliott with the No. 4 pick, the highest spot for a running back in the 26 years that Jones has been the team's owner and general manager.
Secret Audio: Ezekiel Elliott Gets The Call
Afterward, Jones said that the team had tried to trade for another first-round pick to draft Memphis QB Paxton Lynch, but had been unable to get a deal done. The Cowboys hold the No. 34 pick and were trying to trade up. However, the Denver Broncos selected Lynch with the 26th pick after trading up to get it from Seattle.
"Frankly give Denver credit. I thought we had it done," Jones told the Fort Worth Star-Telegram. "It was that close. It was a good idea. He is a top prospect. Probably the highest upside in the draft. Congratulations to Denver.
"In hindsight we would have sweetened the pot. But they didn't radio us in and tell us what they were doing on the other side."
Jones said he wasn't sure what that meant for the rest of the draft at quarterback with the Cowboys, who are trying to find Romo's backup and possibly his replacement.
The Cowboys had a high draft pick in part because Romo missed 12 games with a twice-broke left collarbone, leading to a worst-to-first slide in the NFC East and a 4-12 record. His backups combined for a 1-11 record.
"If you're going to have a young one, you want him on the field and you want him playing games, but you really don't want him playing games," Jones said. "You want Romo playing in all the games."
While critics complained that the Cowboys took Elliott way too high and didn't address their biggest need, defense, the Cowboys said Elliott graded higher than any running back in the past decade, and that putting him behind Dallas' imposing offensive line would help keep the defense off the field.
The only other running back to go higher for Dallas was Hall of Famer Tony Dorsett at No. 2 in 1977. All-time NFL rushing leader Emmitt Smith, another Hall of Famer, went 17th in 1990.
"We think we've got a chance to have a foundation player," Jones said.
The Associated Press contributed to this report.