James Krause reacts to Hector Urbina dropping out of their fight on TUF 25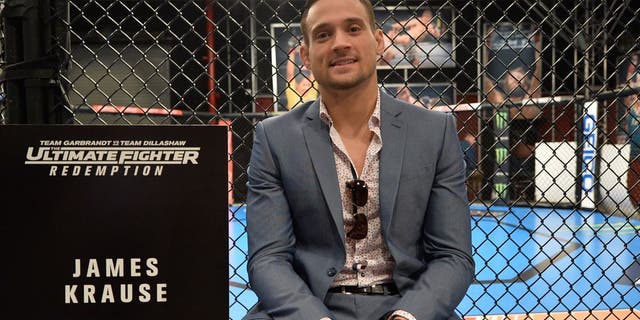 NEWYou can now listen to Fox News articles!
Team Dillashaw top pick James Krause joins FOX Sports each and every week during "The Ultimate Fighter: Redemption" to recap the episode and give his thoughts on what went down in the house.
As soon as T.J. Dillashaw selected James Krause as his No. 1 overall pick, he immediately wanted to be involved in one of the first fights of the season.
Krause knew that fighting early in the competition would then allow him the opportunity to rest and heal his body before the second round began and he got his wish with a matchup against season 19's Hector Urbina from Team Garbrandt.
Unfortunately, Urbina came into the show at over 195-pounds and just wasn't able to make the weight so he was forced to withdraw from the fight before dropping out of the show completely.
With Urbina out, UFC president Dana White along with the coaches selected Johnny Nunez as a replacement, but due to the timing of everything happening, the fight with Krause had to get pushed back to a later date.
"I wasn't happy about it," Krause said in his first video blog when speaking about the Urbina fight falling apart. "Because the thing on that show that makes it worse is the uncertainty of when you're fighting, who you're fighting. So I went from being one of the top guys in terms of certainty like I know when I'm fighting, who I'm fighting, and what weight I'm fighting back to square one again.
"It was really frustrating on my end."
Aside from his own fight, Krause will also address the altercation between Cody Garbrandt and T.J. Dillashaw from the debut episode.
Just head of the first weigh-in of the season, Garbrandt grabbed Dillashaw by the throat before teammates and coaches broke them apart before any punches were thrown. If there's any doubt about the disdain shared between the two coaches, Krause says everything on the show was absolutely real.
"They were like two kids fighting in pre-school over a toy car. They fought almost every single day. It's real," Krause said. "They don't like each other.
"They genuinely, genuinely have a dislike for one another and one another's personalities."
Check out the rest of Krause's blog about his decision to join the show as well as answering some very interesting questions before the end of the video.