Jameis Winston believes Coker has the arm, work ethic to succeed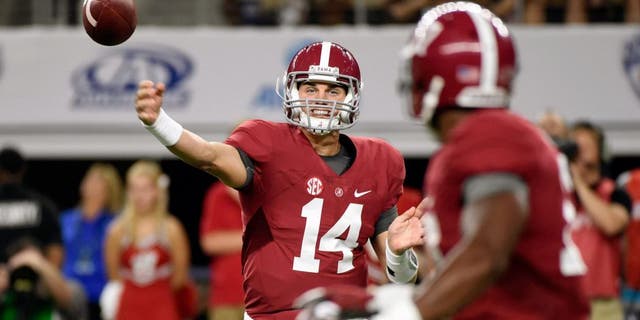 NEWYou can now listen to Fox News articles!
Former teammate Jameis Winston has faith in Coker to get the job done. Richard Mackson USA TODAY Sports
While it's hard to say anything good came out losing to Ole Miss at home, Alabama's silver-lining was the emergence of quarterback Jacob Coker. Had the Florida State transfer started the game instead of Cooper Bateman, the Tide would have likely won the game.
Head coach Nick Saban admitted as much this week in his Thursday radio program leading up to Texas A&M.
Coker has done a really good job," Saban said. "He won the team over with the passion he played with and leadership displayed (during the loss to Ole Miss). Played very, very well against Arkansas last week aside from some early mistakes. (Coker has) become one of the team's offensive leaders."
Saban wasn't the only one to praise the Tide's starting quarterback this week. Former teammate and Tampa Bay Buccaneer quarterback Jameis Winston threw his support behind Coker in an ESPN article this week.
"He's a fierce competitor," Winston said. "He's going to work his tail off until he has success. And if something bad happens, he's going to battle. He's not going to give up. One thing he can't hide is that cannon of an arm he's got."
In order for Alabama to get the win in College Station this weekend, it will need a mistake-free performance from Coker. Can the senior finally live up to the hype and spark the Crimson Tide to yet another SEC title? He's got some successful supporters believing he'll do just that.
(h/t ESPN)
MORE NEWS: Want stories delivered to you? Sign up for our College Football newsletters.