Jaguars involved in longest pass and run of 2015 season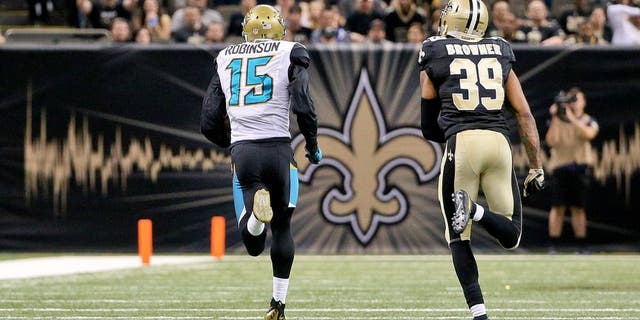 NEWYou can now listen to Fox News articles!
The Jacksonville Jaguars' 2015 season was a mix of explosive offense and disappointing defense, highlighted by two plays in particular.

As Ryan O'Halloran of the Florida Times-Union notes, the Jaguars were involved in the longest pass of the regular season, but gave up the longest run of the season as well.

First, the good news. Quarterback Blake Bortles connected with Pro Bowl wide receiver Allen Robinson on a 90-yard touchdown in Jacksonville's 38-27 loss to the New Orleans Saints on Dec. 27. The play proved to be the longest completion of the year.

On the other hand, the Jaguars defense gave a season-high 87-yard run for a touchdown by Tennessee rookie quarterback Marcus Mariota in the team's 42-39 loss to the Titans on Dec. 6.

Perhaps not coincidentally, Jacksonville enters the offseason optimistic about the future of their offense, while the team is in the process of searching for new defensive coordinator. The Jaguars finished 31st in the league in points allowed per game, yielding an average of 28 per contest.