Jags TE Thomas confident his production will pick up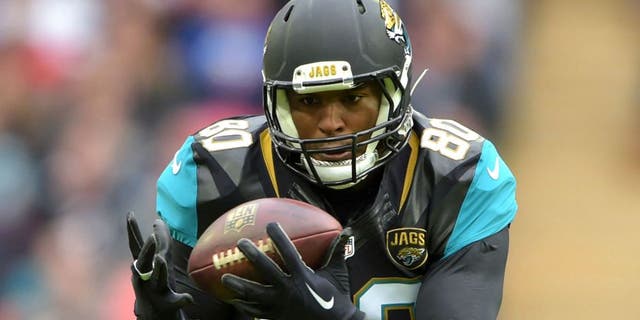 Jacksonville Jaguars tight end Julius Thomas, who has failed to live up to expectations in his first season with the team, said Monday he's confident his production will improve.
Thomas, who signed a five-year, $46 million dollar contract with Jacksonville in March, has just 13 catches for 116 yards and four touchdowns thus far in four games this season.
The two-time Pro Bowler, who missed the first four games of the year while recovering from hand surgery, said he and quarterback Blake Bortles are still getting used to playing together.
"I'm very confident we'll start connecting," Thomas said, per the team's official website. "The looks are there. The opportunities are there. As we get a better feel for each other and our timing, it's going to come along."
The 27-year-old said he feels fine, but needs to work on his timing in game situations.
"You guys may say it's conditioning, but for the people who are playing, it's just timing," Thomas said. "You can run well and you can have great wind, but it's, 'How am I going to get in and out of this route? What body lean? What position?' That's the stuff you can't get until you're back out there and going against defenses. My conditioning is really good. My body feels really good. Now, I'm trying to get that rhythm back."
Thomas and the Jaguars face the Baltimore Ravens on Sunday.
MORE NEWS: Want stories delivered to you? Sign up for our NFL newsletters.