Jags QB Bortles preparing for challenge in Titans' defense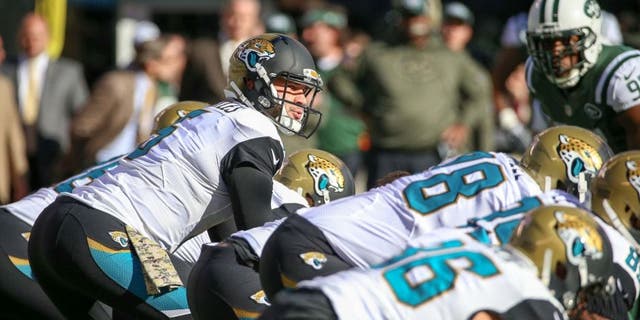 With the Jaguars set to face Tennessee on Thursday night, Jacksonville offensive coordinator Greg Olson is spending time preparing quarterback Blake Bortles for the challenge of facing the Dick LeBeau-led Titans defense.
LeBeau, who is in his first season as the Titans' assistant head coach/defense after spending the last 11 years as the defensive coordinator of the Pittsburgh Steelers, helps oversee a unit that is fifth in the NFL in yards allowed.
"He just has a lot of what we would call exotic pressures," Olson said, per the Florida Times-Union. "He brings people from all areas and brings, not only linebackers, but secondary players. He's the guy that's brought exotic blitzes from where he's been in the past. We certainly see his fingerprints on this defense."
This will be Bortles' second experience going up against a LeBeau defense. As a rookie last season, the quarterback struggled in a 17-9 loss to Pittsburgh, including throwing a interception that was returned for a touchdown.
"He has certain things that he does, and obviously everybody that's played for him, you kind of see similar things within their defenses," Bortles said. "It'll be a fun, hard challenging task."
In addition to dealing with the Titans defense, the second-year quarterback will try to bounce back after lackluster game last Sunday. Bortles completed 22-of-45 passes for 188 yards and two touchdowns, with a passer rating of 65.8 in the win over Baltimore.
MORE NEWS: Want stories delivered to you? Sign up for our NFL newsletters.