Jacksonville Jaguars at Chicago Bears game preview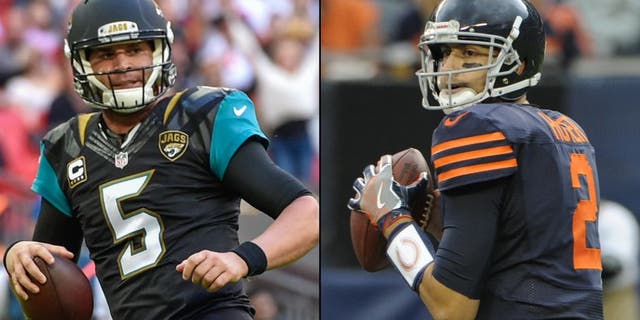 TV: CBS
Time: Sunday, 1 p.m.
LAKE FOREST, Ill. (AP) -- No matter how gloomy things seem this season, the Chicago Bears insist they are better than the record shows.
A few more wins would help their argument.
They could start to salvage something from this season when they meet the Jacksonville Jaguars in a matchup of last-place teams on Sunday.
"We're so close," Chicago linebacker Willie Young said. "And when you go back and look at the film and you see a couple of plays, I guess every game, wins or losses, come down to a few plays. And to see how close we are is a lot of motivation."
The Bears (1-4) were hoping to make a jump in coach John Fox's second season after winning just six games last season.
It's not playing out that way.
Chicago has been hit hard by injuries and inconsistent play and comes into this game last in the NFC North after losing at Indianapolis a week ago.
The Jaguars (1-3) were off after beating Indianapolis in London. They still have a chance to climb in the AFC South if they can pick up a rare road win, something they have done just four times in 25 games in coach Gus Bradley's four seasons.
They have played considerably better after the break during Bradley's tenure -- winning four of five in 2013 and two of three last season.
And while they're last in the division, they're only a half-game behind Tennessee and Indianapolis and 1 games back of first-place Houston.
Here are some things to look for from the Bears and Jaguars:
LITTLE CONSISTENCY
Last week's game was a case study in inconsistency for the Bears. And that's something they hope to change on Sunday.
Against the Colts, Brian Hoyer delivered his third straight 300-yard passing effort and had his QB rating rise to 108.5 for the season.
But he did not see an open Alshon Jeffery in the end zone on the Bears' final offensive play -- an incompletion. Receiver Cameron Meredith had nine catches for 130 yards filling in for the injured Kevin White, but fumbled in the fourth quarter.
Chicago had 522 yards of offense for its highest total since 1989, but had one touchdown on three tries in the red zone. The Bears rank 30th in points per game even though they are ninth in total offense.
TURNOVER-FREE FOOTBALL
Jaguars quarterback Blake Bortles played turnover-free football against Indianapolis in London. It was just the seventh time in 33 starts the third-year pro avoided throwing an interception or fumbling. The Jaguars are 5-2 in those games, accounting for more than half of Bortles' nine career victories. He had seven turnovers, including six interceptions, in the first three games this season.
"It's more so not forcing things, not trying to make plays down the field early in games when they're not there," he said.
ROOKIES DELIVER
The Jaguars are getting significant contributions from four rookies on defense -- five if you count defensive end Dante Fowler Jr., who missed his rookie season with a knee injury. Cornerback Jalen Ramsey, defensive end Yannick Ngakoue, linebacker Myles Jack and defensive tackle Sheldon Day have turned in solid performances in the first four games.
"We are going to continue to push them," defensive coordinator Todd Wash said. "And we expect them to continue to play well."
WORTH WATCHING
The matchup between Ramsey and Jeffery could be a good one.
Ramsey has been impressive so far and highly effective in Jacksonville's pressing scheme. Jeffery, tied for 11th in the NFL in receiving, has not caught more than five passes or been targeted more than seven times this season. But he remains one of the league's most dangerous receivers.
SHUFFLING `D'
The Bears have been forced to shuffle their rotation on defense. And they might have more switches this week.
Chris Prosinski could start at safety after replacing Harold Jones-Quartey during the loss to the Colts. And cornerback Bryce Callahan might sit out with a hamstring injury, leading to playing time for Jacoby Glenn, rookies Deiondre Hall and Cre'Von LeBlanc.
The secondary has been banged up, starting with cornerback Kyle Fuller's knee surgery before the regular season.
Injuries to linebackers Danny Trevathan, Lamarr Houston and nose tackle Eddie Goldman have made things more difficult, yet Chicago ranks 14th in yards allowed after finishing 19th last season.