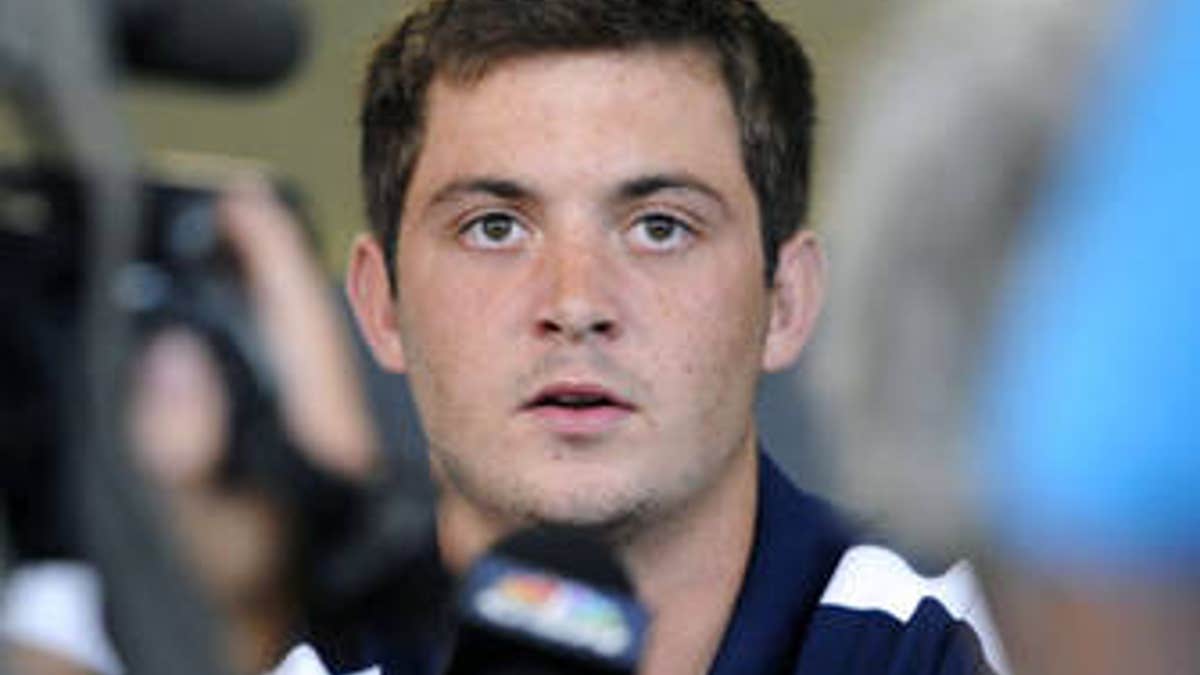 SOUTH BEND, IND. – You don't usually end the regular season undefeated and ranked No. 1, and then need to pick up the pieces to start the next season. It was as if Notre Dame won every hand of poker and then went all-in with a pair of twos, losing it all, and more.
Let's see, not only did Alabama manhandle Notre Dame in the national championship game, but also Manti Te'o's girlfriend turned out to be a hoax and a national nightmare, coach Brian Kelly considered leaving for the NFL, top recruits decided not to honor their own commitments and young, rising quarterback Everett Golson was thrown out for an academic cheating scandal.
"We left last year in the past,'' linebacker Carlo Calabrese said the other day. "It was not hard for me to flush out.''
They need to flush a season that ended in the national championship game.
Meanwhile, two other players instructed me that they wouldn't take any questions about last year. And Kelly told his players that if they have the same effort level as last year, then they'll end up 8-5 this year.
This is Kelly's fourth year at Notre Dame, and he's still building the program in so many ways. It's still developing from the pile that Charlie Weis left behind. And the defense should be great again.
But it's hard to know which way the arrow is pointing, toward growth or toward whichever way flushing goes. The direction will come from new starting quarterback Tommy Rees. Or is he old backup quarterback Tommy Rees?
Kelly was brought in because of his incredible history of developing quarterbacks, and he hasn't exactly developed one yet. Notre Dame fans thought it would be Golson, and might have been right. But now they're stuck with Rees, and are panicking about it.
Really, they should be thanking God that Rees is still here. It's amazing that he still is, as his whole college career has been spent watching Notre Dame get excited about some hot new prospect instead of him.
"I'm just excited to get the opportunity,'' Rees said.
Did you ever think about leaving?
"Not really, no,'' he told me. "I committed to be here for four years and it wasn't something I was ever thinking about breaking.''
Rees has always been Plan B, the fallback position. Now, he has the same job that Joe Montana once had.
He has thrown too many interceptions and doesn't run particularly well. Someone asked Notre Dame offensive coordinator Chuck Martin: If you were a defender, would be scared of Rees' arm?
"Probably not.''
Kelly talked about him not having Golson's speed or arm strength, but "if he's on time, if he's reading it properly, if he's doing all the right things, he can get the ball to exactly where we need him to get it.''
That could be the worst sales pitch I've ever heard.
This time last year, Golson was on the rise and Rees was in trouble for underage drinking. He came into the Purdue game with two minutes left, and the crowd wasn't happy to see him. He led the Irish to the win.
"When he stepped on that field against Purdue and got booed, and responded to that, I was going to be in his corner all the way,'' Kelly said. "I don't' think his story's written. I think you write the story after he completes his journey here at Notre Dame. And you know what? It could be a really interesting story.''
One thing: Rees saved Notre Dame's season last year. He replaced Golson time and again to bail out the team. Kelly was given all sorts of credit for his genius in developing Golson, who did get better as the year went on.
But I was at a bunch of Notre Dame games last season, and I always felt that Kelly wasn't benching Golson out of motivation so much as out of panic, and maybe a little anger. Golson was screwing up, and Notre Dame was about to lose, and then Rees was in the game.
Nobody is saying this, but Rees actually isn't much of a dropoff from Golson. He's just a dropoff from what people thought Golson was evolving into.
Rees offers stability. You talk to him and find that he's as boring as can be. He doesn't get flustered. He's reliable. Dependable.
When your team is picking up the pieces, that's not all bad.
Golson let the team down. (He is trying to work his way back, to be on the team again next year.) Several players said they didn't see it that way, and that they would support their teammate.
I don't know. That teammate's selfish screw-up hurt the team, right?
Linebacker Dan Fox said that "when you bleed and sweat and do all those things together,'' with teammates, you form a bond. Fox is one of Rees' roommates, though, and also said it was "testament to his character'' that Rees stayed at Notre Dame all the way to his senior year.
He was saying nice things about Golson, but some of the stuff he said about Rees -- and he probably didn't realize this -- was in direct contrast to Golson.
"His personality of just, of never really leaving his teammates ...'' Fox said of Rees. "I would have been sad to see him go.
"He's calm, cool collected. That's kind of his style of play. Tom's a great quarterback. He's smart. So's Everett. I'm excited about the quarterback we have.''
Rees has always been there. No one has ever been excited about it, though. Now, if you're going to be excited about Notre Dame's season, you have no choice.