Investigators Return To Aaron Hernandez's Home In Death Probe, Player Sued For Miami Shooting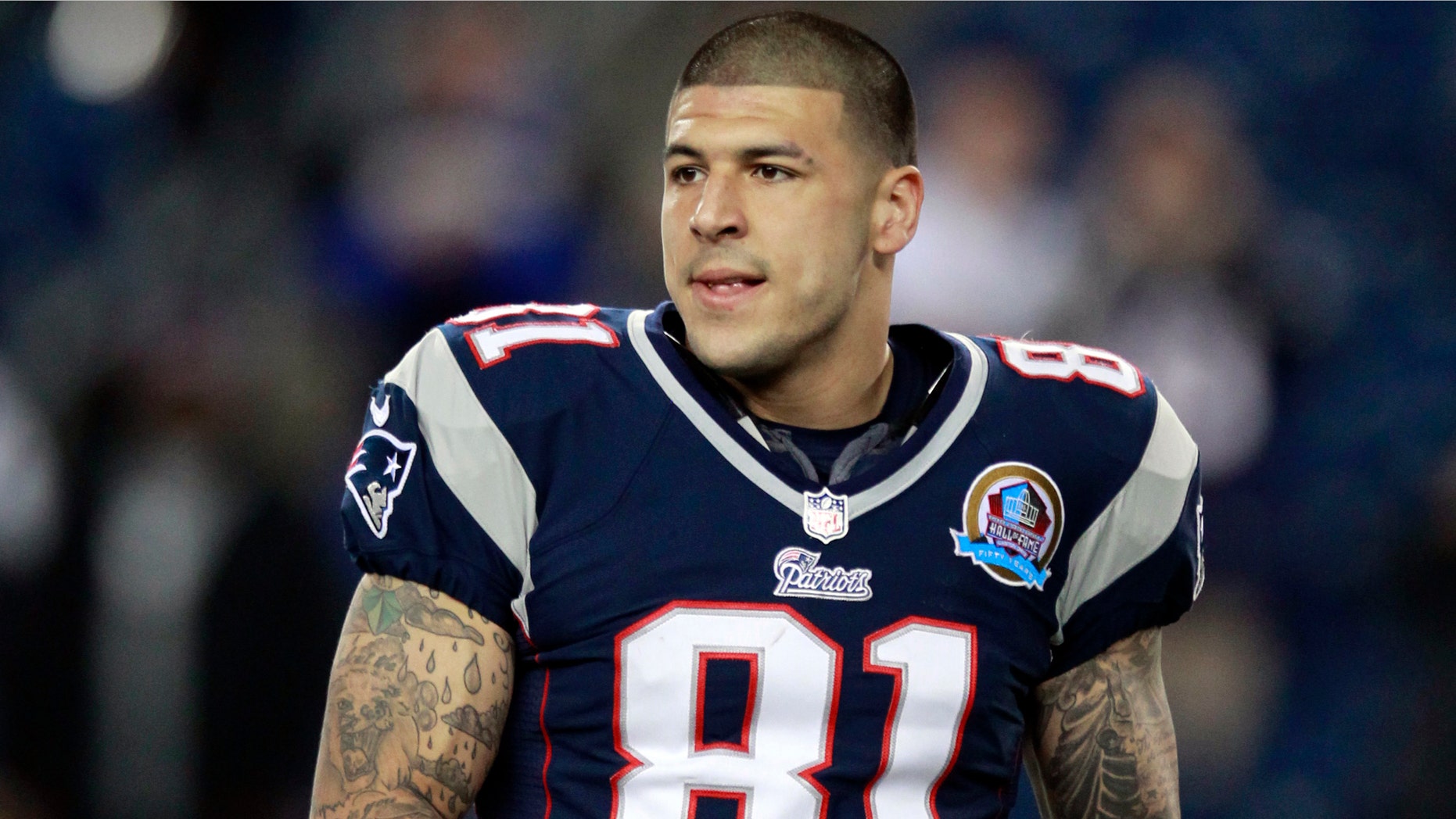 North Attleborough, MA – For the second day, homicide investigators in Massachusetts showed up at the sprawling home of New England Patriots tight end Aaron Hernandez to search for answers in the death of a 27-year-old football player.
There was no one answer when two troopers knocked on the door of Hernandez's estate in an upscale subdivision. ABC News is reporting that investigators plan to execute a search warrant on a rental car that was registered to the Puerto Rican tight end.
Police are probing the death of Oden Lloyd, a linebacker for the semi-pro Boston Bandits, who was found dead two days ago a mile away from Hernandez's home.
On Tuesday night, police spent hours at Hernandez's home while another group of officers searched an industrial park where the body was found Monday. ABC News claims Lloyd was shot in the head, though no more details about the body have been released.
Sports Illustrated, citing an unidentified source, reported that Hernandez was not believed to be a suspect in what was being treated as a possible homicide. The magazine said police had spoken with Hernandez.
State police referred questions to Bristol District Attorney Sam Sutter's office, which declined to comment.
Sports Illustrated reported that the link between Hernandez and the case was the rented Chevrolet Suburban with Rhode Island plates that police had been searching for.
Hernandez is represented by the Athletes First agency, which said it has no comment "on the Aaron Hernandez situation." His mother said by phone from Connecticut on Tuesday she had no knowledge of a case involving him.
"I am aware of the reports, but I do not anticipate that we will be commenting publicly during an ongoing police investigation," Patriots spokesman Stacey James said.
Meanwhile, TMZ is reporting that Hernandez was sued earlier this month for allegedly shooting a man in the face following a dispute at a Miami strip. The lawsuit, filed in federal court in Florida, alleges the two were at Tootsie's Cabaret in February when an altercation erupted and Hernandez pulled out a gun and shot a friend in the face.
At Hernandez's home on Wednesday, a woman in a car with Connecticut plates pulled into the driveway and took a small dog in a cage inside through the garage.
The Patriots drafted Hernandez out of Florida in 2010. Since then, he has combined with Rob Gronkowski to form one of the top tight end duos in the NFL.
On Tuesday night, some police officers stood on the front steps of Hernandez's home and others could be seen inside. Some walked around the driveway and in the garage with flashlights. Before wrapping up their work for the night, one officer took a box out of the massive house.
North Attleborough, where Hernandez lives, is south of Boston on the Rhode Island state line, not far from the Patriots' stadium in Foxboro.
In 38 games, the 6-foot-1, 245-pound Hernandez has 175 receptions for 1,956 yards and 18 touchdowns. He missed 10 games last season with an ankle injury and had shoulder surgery in April, but is expected to be ready for training camp. The Patriots have not said which shoulder was operated on.
Last summer, the Patriots gave Hernandez a five-year contract. It was worth $40 million, according to reports, and came just months after the team locked up Gronkowski, through 2019.
"Aaron's improved a lot," Patriots coach Bill Belichick said at the time. "He's worked hard, he's improved a lot in all phases of the game — the passing game, the running game, protection and his overall versatility. He's doing a good job for us."
Based on reporting by The Associated Press.
Follow us on twitter.com/foxnewslatino
Like us at facebook.com/foxnewslatino