Interview goes awry when C-Webb asked about former Michigan teammate Rose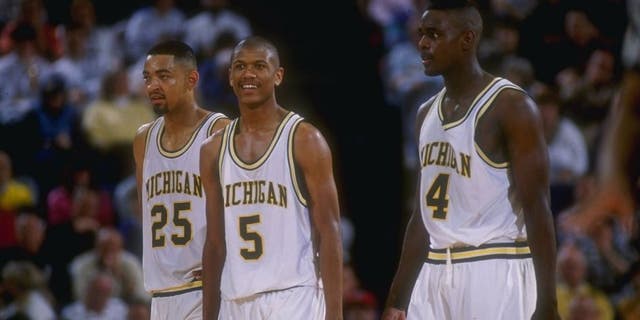 Some advice for students taking Chris Webber's class in sports, race and society at Wake Forest next fall: Don't ask him about Jalen Rose.
Webber appeared on Doug Gottlieb's radio show Thursday and spoke about the class and other matters. But then Gottlieb turned to a line of inquiry that Webber emphatically did not appreciate: his relationship with former Michigan Fab Five teammate Jalen Rose.
Webber did not appear in the Rose-produced documentary on the Fab Five, not happy that he wasn't asked to contribute until the filming was almost complete, Webber said. Rose responded to Webber's criticism by calling him "delusional."
When Gottlieb asked how things were between Webber and Rose these days, Webber asked the host to repeat the question, then responded: "Wherever it was."
And it didn't get any better from there as Gottlieb persisted.
"I mean, Doug, we ain't talking about that," Webber said. "You ain't getting that interview. I'm talking about Wake Forest. I don't talk about him. I talked about him one time on 'The Dan Patrick Show.' That was it."
But that wasn't it.
"I don't want to answer the question," Webber said. "So what would you ask me after that? ... I respectfully ask you not to ask me that again so you can blow your numbers up for your show. I don't want to talk about that, Doug."
When Gottlieb said it was his job to ask the question, Webber said: "I don't know what it's like to do your job, Doug, so thank you for explaining that to me."
(You may need a towel to clean up the dripping sarcasm from that response.)
In the end, Webber wrapped things up with a final reference to his Wake Forest endeavor and a dig at his Gottlieb show experience: "I hope the students sign up, because the class is going to be way more fun than this interview. It's going to be crazy. Thank you."
(H/T CBS Sports -- Gottlieb asks Webber about Rose at 14-minute mark in video at bottom of this CBS Sports story)