Infamous Clemson punter is able to convert the fake this time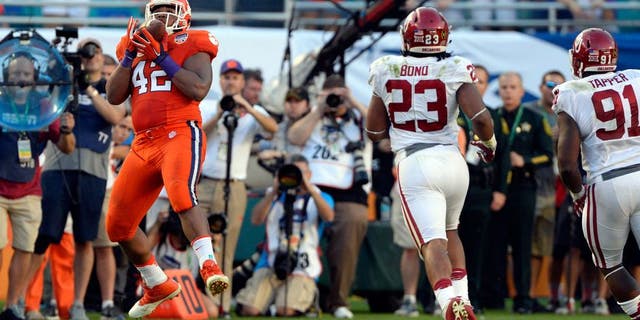 The last time Clemson punter Andy Teasdall attempted a fake punt -- during the ACC title game -- he was scolded by a furious Tigers head coach Dabo Swinney. That wasn't the case during Thursday's 37-17 victory over Oklahoma in the College Football Playoff semifinals.
Facing a fourth-and-4 situation at the Oklahoma 44-yard line, Teasdall lined up to punt, but instead took the snap and delivered a perfect pass to defensive tackle Christian Wilkins for a 31-yard gain. According to Clemson football's Twitter account, the catch was the first by a defensive lineman in Clemson history.
The play would eventually lead to a five-yard TD run by Clemson QB Deshaun Watson to give the No. 1 Tigers a 10-7 lead over No. 4 Oklahoma with 12:45 left in the second quarter.