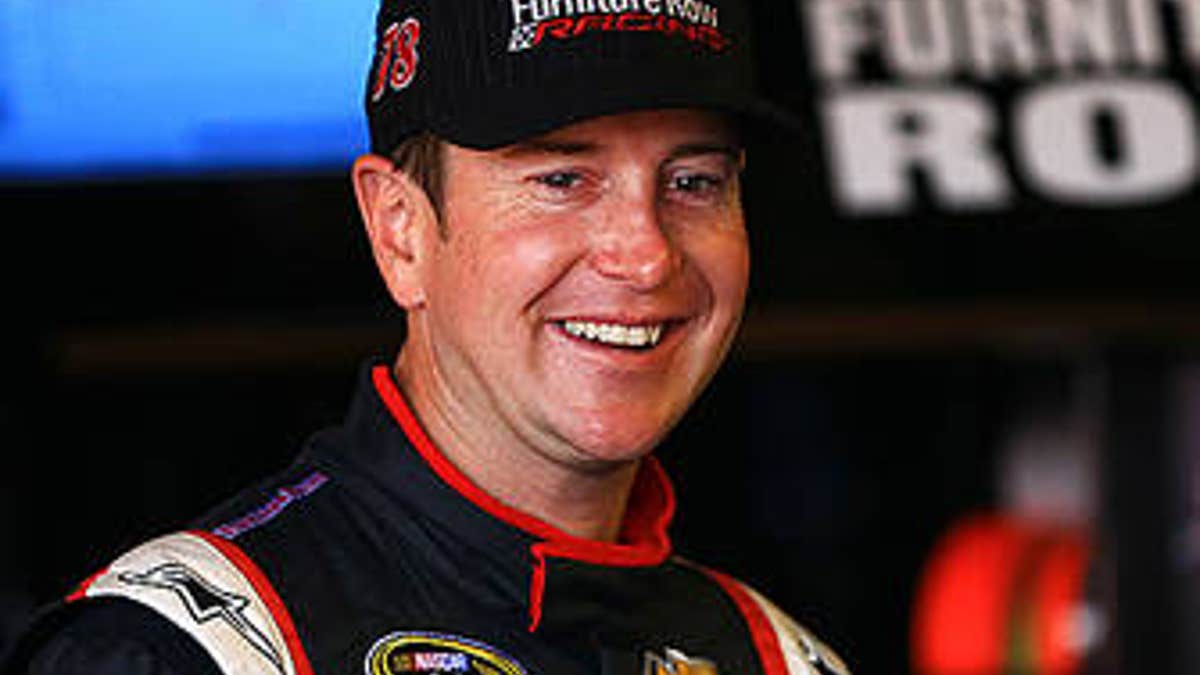 ANN ARBOR, MICH. – Three Bad Boys and a Little Lady?
How about the Oakland Raiders of NASCAR?
Whatever moniker is concocted for Stewart-Haas Racing should Kurt Busch accept the team's pending offer, it's certain that in no time you'll be calling the organization "winners."
Stewart-Haas Racing has the potential to be only the second organization with two Sprint Cup champions in its lineup. Tony Stewart, Kevin Harvick and Busch have 93 wins and four Cup titles between them. While no one can touch the 186 victories the four current drivers at Hendrick Motorsports boasts, the potential Stewart/Harvic/Busch combination would compare favorably to the three-car operations at Joe Gibbs Racing (77) or Roush Fenway Racing (39). (Richard Childress Racing's roster has not been solidified for 2014.)
And don't forget, the team also would include Danica Patrick.
Now, before the Busch vs. Ryan Newman comments begin, consider the numbers:
1) Busch is a former Sprint Cup champion. His six Chase appearances trump Newman's four. That's a huge incentive for sponsors.
2) Busch's 24 wins trump Newman's 17.
3) Although Newman has 50 career poles, which rank him third among current drivers, he has converted only five first-place starts to wins. Newman's average finish of 16.5 is slightly higher than Busch's 17.3.
One of Newman's strongest selling points is his degree in engineering, which offers him a unique understanding of race cars. However, Busch's feedback from behind the wheel is considered some of the best in the garage.
On Sunday, Harvick, who finished second in the Pure Michigan 400 (one position ahead of the No. 78 Chevy driven by Busch), offered Furniture Row Racing props for the assist with Richard Childress Racing's set-ups.
"Kurt has a great understanding for the car," Harvick said. "This weekend was the first time we incorporated some of the things that they're doing on their car to what we're doing. The car definitely had a lot more speed than it has the last couple of weeks."
It was Harvick's best finish since his win in May at Charlotte. Eighth-place finisher Jeff Burton posted his fifth top 10 finish of the season. And for fourth-place Paul Menard, it was his first top-five finish in 2013.
"It's cool to see all the Richard Childress' cars run strong -- the 78 included," Menard said. "We needed that."
Harvick has graciously credited Busch's contribution throughout the year as being a catalyst to pushing him harder at RCR this season. That has been missing since Clint Bowyer left at the end of 2011. Still, having a wheelman such as Busch under the roof at SHR could provide those teams with a similar spark moving forward. And having three drivers who all possess a keen sense of what a car needs to run fast will strengthen SHR as whole.
If there is any question about Busch's talent, just find a replay from Sunday's restart on Lap 162 when he was mired in 14th following a mediocre pitstop and regained his sixth-place position in the running order after the first lap.
Should Busch accept SHR's offer, the biggest challenge might be corralling not one "Outlaw" but three. Then again, Gene Haas could always rename the organization Hell on Wheels.
SAME BAT TIME, SAME BAT CHANNEL Jamie McMurray will return to Earnhardt Ganassi Racing next season.
While it's company policy not to discuss contracts, McMurray told FOXSports.com at Michigan Speedway that "you're not going to see any changes between sponsors or drivers on the 1 team."
McMurray, 37, is 16th in the Sprint Cup point standings. He has six-career Cup wins, including three in his past four years of his second stint with Chip Ganassi.
JUST TESTING AJ Allmendinger will test the No. 55 Toyota for Brian Vickers this week at Richmond International Raceway.
Vickers had scheduled a previous engagement and will be unable to make the session.
Dinger is coming off his second win of the season with Penske Racing last Saturday at Mid-Ohio Sports Car Course.
SOCIALIZING Despite sitting third in the wild-card standings, Joey Logano is far from giving up:
And thanks for all of the congrats. Fans are the best. Wish i could say thanks to all of you. We are still in this for sure. 3 more to go
-- Joey Logano (@joeylogano) August 19, 2013 SAY WHAT? Clint Bowyer on how he finished fifth in the Pure Michigan 400 after restarting 43rd on the second lap:
"Beats the hell out of me," Bowyer said. "Man, what a long day. Spinning out on the first lap ... I couldn't figure out. A lot of times you just know that you're hanging it out too much and trying to get too much out of it and you wreck on your own. I didn't think that was the case. I was trying to get around the 2 (Brad Keselowski), felt good, wide open, good 'ole girl stuck and all of the sudden it wasn't stuck and away I went. Hard-fought battle for our 5-hour ENERGY Toyota. All these guys, they just don't give up. That's what I love about this team, this organization. That's why we're where we're at in the points.