If you aren't having fun, you must be doing it wrong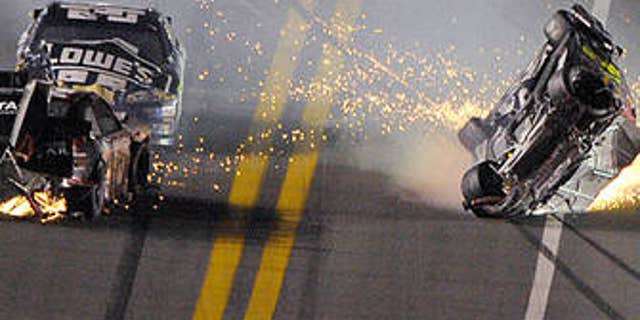 DAYTONA BEACH, Fla. – "If you are not having fun, then you must be doing it wrong"
A long time ago, someone told me "If you aren't having fun at what you are doing, then you must be doing it wrong." I hadn't given it much credence until just lately. It's now become clear that the changes to some of the rule packages for the restrictor-plate tracks these last couple of years must have been the best direction.
We are all down here kicking off the 2012 NASCAR Sprint Cup season in Daytona and I just have to say, it's been a long time since we've seen such a marked change. We've been through the practices, the Budweiser Shootout and now qualifying for the Daytona 500 that will run this Sunday on FOX.
That Budweiser Shootout Saturday night still has me scratching my head. It was like a demolition derby at 200 mph on a 2.5 mile track, but, to a man, the drivers all talked about how much fun they were having. We even saw, Big Daddy, Jeff Gordon get turned upside down and sliding on his lid and then rolling a couple times. You don't see that often, and as a former driver who barrel-rolled 11 times down the Daytona backstretch, I say thank goodness.
After the mandatory once-over at the Infield Care Center, Jeff Gordon comes out and tells the NASCAR on FOX audience "Man, we were having a lot of fun out there." He wasn't alone. It seemed all the drivers, from race-winner Kyle Busch to the others that got wrecked out, still talked about the fun they were having.
Now that is a huge contrast to what we had been hearing the last couple years from these guys at Daytona and Talladega. The two-car tandem was so nerve-wracking and mentally draining that the drivers weren't having any fun. The intense concentration to push someone around this big ol' place at 200 mph was just draining these guys and the fun-factor was no where to be found.
Now with NASCAR's revision to the rules package, the guys, while still having to have laser-like focus and intensity, at least seem to be more relaxed and enjoying themselves. That's contrary to what you think conventional wisdom would dictate. You would think, knowing there is more of a likelihood of being in a wreck or being in a big wreck with multiple cars, that drivers would be more on edge. However, after Saturday night's Budweiser Shootout, that's not the case.
The fans should be so grateful and appreciative to NASCAR for listening to their concerns and attempting to give the fans what they want. There was a comprehensive effort between NASCAR, the drivers and the teams to break up and eliminate the two-car tandems as best they could.
I saw this first-hand back in January when we were down here for the three days of testing. It didn't matter what manufacturer you were, or whether you were part of a mega-team or a single-car operation, everyone worked together with NASCAR to try and give the fans what they were clamoring for.
Everyone pulled together, shared ideas and information with a common goal to reduce or hopefully eliminate the two-car tandems. What we saw Saturday night in the Budweiser Shootout says their goal was reached. It just shows that when everyone is on the same page, nothing is unattainable.
So the first week down here at Daytona was incredible. The racing has been fantastic. The speeds are up. Sunday saw the front row set for the Daytona 500. The Ford camp is thrilled, especially car owner Jack Roush, who has Carl Edwards on the pole and his teammate Greg Biffle on the outside pole for Sunday's 54th running of the great American race.
Carl turned a lap of 46.216, which equates to 194.087mph. That lap actually achieved a couple of things for Carl. He gets bragging rights for the entire week leading up to Sunday. He also becomes the first qualifier for next February's Budweiser Shootout. The reason being, NASCAR and the track announced they are returning to the original criteria to get into this exhibition race. The 2013 Budweiser Shootout will be set with 2012 pole winners and past Budweiser Shootout winners.
I like that. It makes it really easy for the fans to understand. It seems the last couple year's the qualifying criteria were getting more and more convoluted and hard to follow. Now it is more streamlined and simple to understand. I think it's yet another example of folks working together, in this case NASCAR, Daytona International Speedway and the sponsor, to take an event and make it better.
So we have increased speeds combined with the 2012 rules package that gives the cars a smaller rear spoiler. That and the other changes make the cars a little harder to drive. The positive side of that is it puts things back into the driver's hands. Tony Stewart told me he felt like a driver again and had control of his own destiny. He wasn't a big fan of being a pusher in the two-car tandem racing. He couldn't see what was happening ahead of him and could only stare at the bolts on the spoiler of the car he was pushing.
There are still some areas the drivers have to work on. It was pretty clear in practice and Saturday night in the Budweiser Shootout that when you get pushing on guys left rear side of the bumper, it turns the car ahead of them around. The drivers will definitely work on that.
Remember, the drivers have to go back and re-learn this style of driving. The restrictor-plate races had evolved into the two-car tandem racing. Now the drivers have to go back and re-acclimate themselves with the pack-racing mentality. That's a driver thing and they will adjust to it.
This Wednesday brings us more practice. Thursday is the Gatorade Duels at Daytona. It will be interesting to see how the drivers adapt after what they experienced last Saturday night. I look for the drivers to adapt and settle down some. Sure, they will still be running in packs, but I would wager to say you won't see them running over each other, at least not to the extent we saw in the Budweiser Shootout.
Also don't lose sight of the fact that last Saturday night was a non-points money race. It was also a short race - only 75 laps. The Daytona 500 Sunday on FOX is a completely different animal. Sure it pays out a lot of money, but more importantly the 2012 NASCAR Sprint Cup points championship begins. That will change the way these drivers approach the race Sunday.
I truly believe we are going to see one of the best Daytona 500s we've seen in a long, long time. Things are really going well down here. The fans are happy. The drivers are happy. NASCAR on FOX is back on the air. My brother Michael Waltrip has joined the Pre-Race show. Jeff Hammond has been working with the FOX designers and we now have a virtual cut-away car that looks fantastic. Jeff gave you a brief taste of it last Saturday night and I think the possibilities for it are endless.
We're getting ever so closer to the 54th running of the Great American Race - the Daytona 500. Our NASCAR on FOX Pre-Race show comes on the air at Noon ET on Sunday and then at 1 p.m., well it's time to go Boogity, Boogity, Boogity - Let's Go Racin' Boys and Danica!
A SAD NOTE: Please continue to keep our NASCAR on FOX buddy Chris Myers and his family in your prayers. The Myers family lost their teenage son in a tragic car accident last Thursday. So please pray for them. We love Chris. We miss him and pray that God surrounds the Myers family with the warmth of his love during this horrible time.