Hughes' six solid innings set up 3-2 win for Twins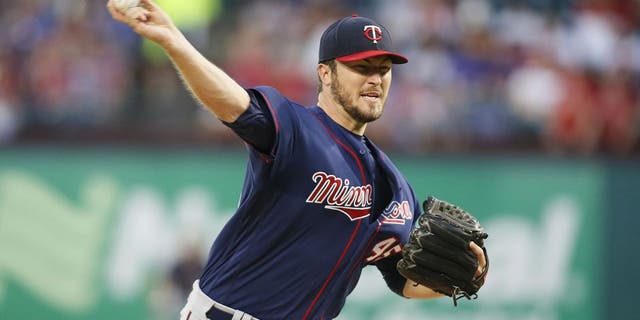 ARLINGTON, Texas -- Brian Dozier doubled his season RBI total with one swing, and that was enough for the Minnesota Twins.
Dozier had a bases-clearing double with two outs in the fifth inning, and the Twins won 3-2 on Monday night to snap the Rangers' AL-best four-game winning streak.
"I haven't had that many chances," said Dozier, who had only three RBIs in his first 17 games. "So just hit it where they can't catch it."
Dozier's drive into the left-center gap came after Martin Perez (1-3) walked the bases loaded. The walks were to three of the bottom four batters in the Twins lineup.
"He took advantage of that and got the huge hit," manager Paul Molitor said.
Those were the only walks allowed by Perez in his six innings.
"If we make pitches in that inning, we don't get to that point," manager Jeff Banister said.
Phil Hughes (3-1) allowed two runs on six hits over six innings. The right-hander, who has won all three of his road starts this season, struck out two and walked one.
"It was rocky in some spots, tried to get my changeup going a little bit," Hughes said. "I executed some big pitches when I had to. Guys on, limiting damage."
Brandon Kintzler worked the ninth for his fifth save in as many chances. The right-hander hasn't allowed a run in his 9 1-3 innings over nine appearances.
Mike Napoli led off the Texas second with a double, and scored when Rougned Odor followed with another double . Napoli was hit by a pitch to start the fourth, and scored on Joey Gallo's single .
Banister was ejected by home plate umpire Alfonso Marquez soon after a called third strike on Elvis Andrus, a pitch that appeared to be outside, for the second out of the ninth. Banister was unhappy about several such calls, and had directed words toward Marquez when going out to make a pitching change in the eighth.
"I would say it's the first time I've ever been ejected for clapping my hands," Banister said his second ejection in five games. "Look, you guys watched the game, you had the monitor, you assess for yourself where some of the frustration was at."
Texas catcher Jonathan Lucroy felt like the strike zone was inconsistent.
"I felt like from behind the plate that if we had the same zone then they don't score those runs," Lucroy said. "If you're going to call pitches outside the zone, that's OK, but do it both sides. … We just got the short end of the stick."
SANO'S APPEAL
Minnesota's Miguel Sano played after appealing his one-game suspension for what MLB deemed "aggressive actions" that caused the benches to clear during a game Saturday against Detroit. The suspension was announced earlier Monday.
Sano was 0-for-4 with a strikeout and grounded into a double play, but the third baseman had a nifty catch. With the defense shift in the second against Gallo, Sano ran a long way into foul territory and then drifted back across the line in short left field to make the catch with his arm almost fully extended while falling to the ground.
CAN'T BREAK EVEN
The Rangers (9-11), the AL West champion the past two seasons, missed a chance to reach .500 for the first time this year.
TRAINER'S ROOM
Twins: LHP Ryan O'Bourke (left forearm strain) was transferred to the 60-day disabled list to make room on the 40-man roster for RHP Nick Tepesch, whose contract was selected from Triple-A Rochester.
Rangers: RHP Tyson Ross (thoracic outlet syndrome) played catch again Monday and plans to push a little more each day. … LHP A.J. Griffin (gout left ankle) said the swelling is down a lot. He could potentially start Friday, the day he is eligible to come off the 10-day DL.
UP NEXT
Twins: RHP Ervin Santana, 3-0 with a 0.64 ERA is four starts this season, makes his 32nd career start for Texas.
Rangers: Andrew Cashner's third start for Texas will be the first in his career against Minnesota.