Hue Jackson explains what the Browns are looking for in a quarterback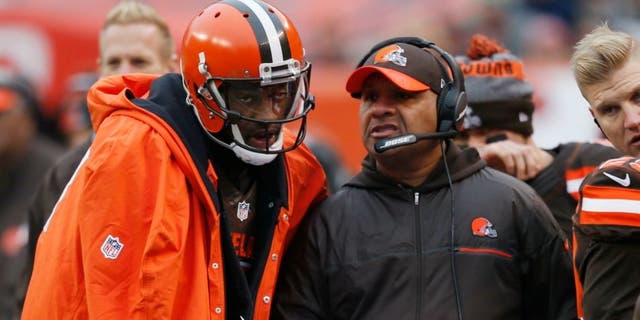 The Cleveland Browns had one of the worst offenses in the league last season, which should come as no surprise given that they finished with a 1-15 record. It was a difficult campaign for first-year head coach Hue Jackson, but there's reason for hope in Cleveland.
The Browns hold the first and 12th picks in the 2017 NFL Draft, allowing them to add two immediate impact rookies for next season. Which positions those guys will play remains to be seen, but there's a glaring need on Cleveland's roster: quarterback.
Jackson promises the Browns will find one, he just isn't sure when or where.
"We all know a quarterback is very important to our football team. But is he the best player? We've got to find that out," Jackson said on Wednesday, via Ohio.com. "We need to put one on our team. We're going to find one. I promise you guys that. We're going to do that. I think that's imperative. I think we all know that, and that's what we're going to accomplish."
As for what the Browns are looking for in a quarterback, Jackson elaborated a bit on that subject. Playing in Cleveland, Jackson is looking for a guy who's a good "arm talent" and can play in the snow.
"At the end of the day, the guy needs to be able to process football and [have] arm talent," Jackson said. "I think that's really important, especially in our division, and everything in my mind goes through our division because we play in a lot of different elements and we think we have one of the better divisions in football.
"If you can't stand in there in snow and elements and throw the ball, then it's tough. If you can't process information because the defenses are so good, Pittsburgh and Baltimore and Cincinnati, then it's hard to play. So those are things that are non-negotiable for me."
There are a few candidates for the first overall pick come April. Deshaun Watson is one of the top quarterbacks, as are Mitch Trubisky and DeShone Kizer. None of them is a surefire franchise QB, and if there's a safe pick in this draft class, it's defensive end Myles Garrett from Texas A&M.
He'll absolutely be in play at No. 1, boasting rare pass-rushing ability at a position of need for Cleveland.
"I think you go through the process, and I know everybody doesn't like me using that term. I do. I think you have to go through it and weigh what's best," Jackson said. "Who is the best player? We haven't determined that. Is the best player a defensive end? Is it a quarterback? Is it a defensive back? I don't know yet until you can evaluate them all and line them all up and see where they are and see what's best."
The draft is still a few months away, and there is plenty of evaluation still to be done. The Browns are going through the process now in Mobile, Ala., at the Senior Bowl, though it's believed that none of the top prospects in play at No. 1 are in attendance. Watson could have been, but he declined the invite.