Houston Astros at Tampa Bay Rays game preview (4/21/17)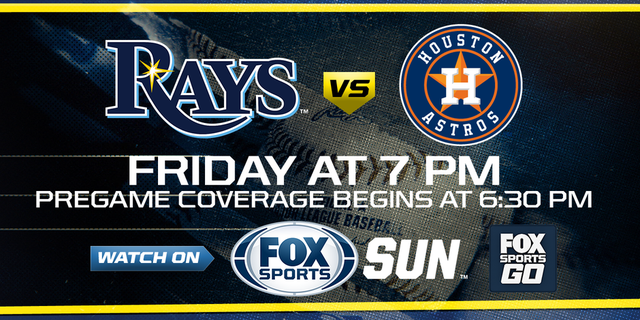 NEWYou can now listen to Fox News articles!
TV: FOX Sports Sun
TIME: Pregame coverage begins at 6:30 p.m. ET
ST. PETERSBURG, Fla. -- The Tampa Bay Rays are playing dominating baseball at home, winning eight of 10 games at Tropicana Field, but they will have a challenge continuing that this weekend against a Houston Astros team that is 4-1 on the road and has won seven of eight overall.
"What a series. Great series. Nice to bounce back," Rays manager Kevin Cash said Thursday after Tampa Bay's easy 8-1 win finished a three-game sweep of the Detroit Tigers. "We had some timely hitting and took advantage of some mistakes. Any time you're able to jump on those, it helps a lot."
The division-leading Astros almost have to fare better than the Tigers, who were held to three hits Thursday and continued a slew of defensive gaffes that factored in the Rays' early lead.
Tampa Bay's six-game home win streak is its longest in nearly two years, and it is only the second time in their franchise history the Rays won at least eight of their first 10 home games.
"We've played a lot cleaner games at home so far," said outfielder Steven Souza, who has reached base multiple times in 12 games, tying for the most in the majors, including a 3-for-5 game in Thursday's win. "Playing at Yankee Stadium and Fenway Park (and going a combined 1-6), those are two tough teams and two tough environments. I just think we've played clean baseball."
Houston took three of four games from the Angels -- including a 2-1 win Thursday in which the Astros managed only three hits, though two of them were home runs from Carlos Beltran and Jake Marisnick.
The Rays open the series on Friday with right-hander Alex Cobb (1-1, 4.50 ERA), who has faced the Astros once, striking out 11 in a 2014 win at Minute Maid Park. Houston counters with right-hander Mike Fiers (0-1, 5.40 ERA), who is 1-0 with a 3.38 ERA against the Rays, both starts coming last season.
Beltran's home run was his first with the Astros, another bat clicking in an offense that has propelled Houston to eight wins in the past 10 games.
"I don't get caught up in homers," said Beltran, 39, who had five RBIs in his first 14 games with the Astros. "For me, it's about trying to put up quality at-bats. If I put up quality at-bats, I know (home runs) are going to come. Today was a great win for us. (Lance) McCullers did a great job and pitched a great game. We had key homers in two different innings, and that was good enough for us to get the win."
Marisnick hit his second homer of the season. He is batting .313 with a .450 on-base percentage.
The Astros allowed a total of two runs in their past three wins, so the Rays, even with the momentum of the Detroit sweep, will have a challenge if they want to continue their strong play at home.
After a 1-6 road trip last week put the Rays at 6-8, Tampa Bay rallied back to a winning record halfway through the homestand.