Home or road doesn't matter when Cookie's on for Tribe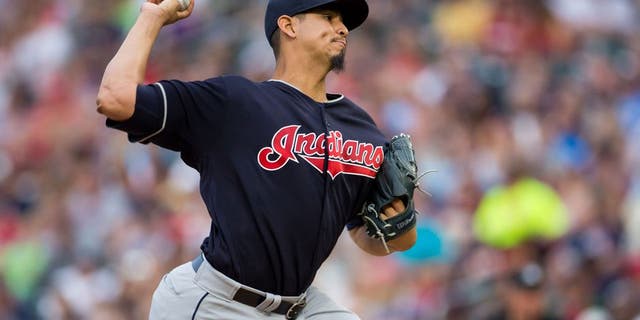 NEWYou can now listen to Fox News articles!
BALTIMORE -- The Cleveland Indians are playing with confidence.
As a result, manager Terry Francona was looking forward to getting back on the field Wednesday after a 6-5 loss to the Baltimore Orioles that tied their four-game series at one win apiece. The loss snapped the Indians' longest winning streak of the season at six games.
Coverage begins at 6:30 p.m. on SportsTime Ohio
"Nobody wants to lose, but I don't think this loss will affect us (Wednesday)," Francona said. "That's good. I also don't feel like going back and talking about six games ago because that's not what we do."
Even with the victory, the Orioles extended their American League record in allowing five or more runs in 17 consecutive games. It's also the second-longest streak in the majors over the past 100 years.
Baltimore, however, was just elated to be in the win column.
"This was a great team win," said Machado, who went 4-for-4 with two home runs. "Just happy I was able to do something for us today, and come out with a victory. We played great baseball. That's what we've got to keep doing as a team, keep playing as a team. One another will pick each other up. That's all we can ask for."
The challenge won't get easier for the Orioles against Indians' right-hander Carlos Carrasco (7-3, 3.21 ERA), who has been one of the major's best pitchers on the road this season, going 5-1 with 2.89 ERA over seven starts. He is third in the American League with a 1.01 WHIP and 11th with 79 strikeouts.
Francona said Carrasco has been dominant, regardless of whether he pitches at Progressive Field or on the road.
"When he's good, I don't think it matters where he is," Francona said.
In his last outing, Carrasco allowed one run on four hits and had seven strikeouts over 6 1/3 innings against the Twins on Friday. Carrasco has been especially tough when he gets an early lead from Cleveland's offense.
"It was nice to get an early lead," Carrasco said. "Then all we have to do is come in there and throw some zeroes on the board. That's what we try to do every day."
Carrasco is 1-2 with a 3.79 ERA in four appearances (three starts) against Baltimore.
The Orioles will counter with Kevin Gausman (3-6, 6.60), who has been one of the team's biggest disappointments this season. He has lost his past two decisions and is ranked last among eligible American League pitchers with a 1.92 WHIP.
In his last outing Friday against the Cardinals, Gausman struggled with his command, allowing five runs on nine hits with three walks over 5 2/3 innings. He threw 116 pitches (69 for strikes) and allowed 12 base runners.
Gausman, like most of the Orioles' starters this season, has struggled to go late in the game, which has put added stress on an already short-handed bullpen. Setup man Darren O'Day and closer Zach Britton are on the disabled list.
"I think that as a starter our job is to go at least six innings," Gausman said. "Whether we give up 10 runs or two runs, it's to get through six. Most times when you get through six with less than two runs, you're going to go back out there for the seventh. We're just killing our bullpen right now as starters, so that was kind of my goal, to get through that sixth."
Gausman is 2-1 with a 1.72 ERA in three career appearances (two starts) against Cleveland.