Here's why the Cavaliers should be concerned despite LeBron James' epic Game 3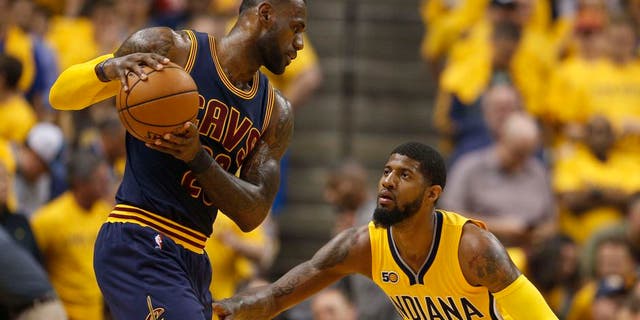 You had to know they'd come back, right?
The Cleveland Cavaliers spotted the Indiana Pacers a 25-point halftime lead in Game 3, then responded with one of the best defensive quarters they've played since LeBron James' homecoming to claim a 119-114 win and a 3-0 lead in their first-round series.
The King finished withwith 41 points, 13 rebounds, 12 assists and two blocks, completing just the seventh 40-point triple-double in NBA playoff history, including28 points, six rebounds, seven assists, a block, a steal and zero turnovers in the second half alone.
Yet despite the win, the Cavaliersstill have two major causes for concern.
Brian Spurlock-USA TODAY Sports
First,when this team gets punched in the mouth defensively, as it did over the first two quarters, it has no idea how to respond in the moment.
The Cavs are their own worst enemies on defense, as they panic whenever things start to go wrong in the slightest. All it takes is one missed screen and a layup at the rim for LeBron to rip into Tristan Thompson, who in turn yells at J.R. Smith, who wanders away wondering what he did wrong.
To be fair, there was a lot to like about Cleveland's defensive effort in the second half. TheCavs locked down the Pacers outside of a few miraculous shots by Paul George. But that first half was a bright red flag for the Cavs as these playoffs progress.
A better team than Indiana say, the Golden State Warriors will exploit the bickering and miscommunicationthat consumesCleveland every time the Cavs have a defensive breakdown. The Warriors would turn that lack of focus into a second consecutive easy bucket, and another, and another, just as the Pacers did in the first half on Wednesday.
But when you play an actual championship contender, you can't just flip the switch in the second half to win the game. That kind of thinking will get you eliminated in five games.
Brian Spurlock-USA TODAY Sports
Second, we need to talk about LeBron's free-throw shooting.
Heshot the worst percentage of his career in 2016-17 (67.4 percent), and he's been even worse so far through three games against the Pacers, making just more than 55 percent of his freebies.
We're not to the point where teams are going to consider intentionally fouling LeBron, but we're getting close. If he's running hot, you might even be better served putting him on the line than letting him try to find open 3-point shooters. Or maybe it's worth trying to get in The King's head by sending the message you don't believe he's clutch enough to knock down his free throws in the playoffs.
Perhaps this is just a statistical anomaly a tiny sample size, if you will. The Cavs better hope so. When LeBron is struggling at the line, he shies away from drives to the rim and settles for contested 3s.
Although he is shootingbetter from deep than he has since he was with the Miami Heat,that outcome is always going to be a win for the other team compared to the alternative.
There's still a lot of time in this 2017 NBA postseason. The Cavs can work out their communication problems and LeBron can round into form at the stripe. Even if they don't, they're still a lock to make the NBA Finals.
But there's no guarantee either of those fixes will come to pass, and that should have Cleveland concerned as we draw ever closer to June.