Harvick on failed Phoenix weekend: 'We started way too far off'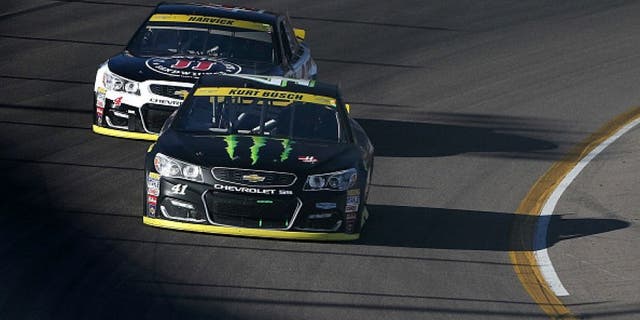 Kevin Harvick and Kurt Busch both knew the deal coming into Sunday's Can-Am 500 Chase elimination race at Phoenix International Raceway.
To keep their 2016 championship hopes alive, they both needed to win. Since only one of them could, the Stewart-Haas Racing teammates knew all along that only one of them would survive the day.
In the end, neither did -- though not for a lack of trying.
With both of them charging hard toward the front in the closing laps, Harvick ended up fourth and Busch fifth, respectively. It was close, but not good enough for either of them to advance to next Sunday's Championship 4 in the season finale at Homestead-Miami Speedway.
Harvick's best last chance came on the second green-white-checkered overtime restart, when he was lined up third behind leader and eventual race winner Joey Logano on the outside of the second row. But on the restart, Harvick could not match the surge that Logano made to get out front -- and actually ended up losing one spot before the checkered flag flew.
Harvick entered the weekend as the heavy favorite to win, having gone to Victory Lane in five of his last six Phoenix races and a record eight overall. But he said his No. 4 SHR Chevy was too far off from the time it was unloaded for Friday practice, when he was only 14th-fastest.
"We just started way too far off on Friday," Harvick said. "We never got a handle on the race car. They made it a ton better in the race and we were in contention there at the end and just came up short."
Busch said he felt pretty much the same way.
"We got up to the front as high as third and sniffed the front to try to win because we had to win to advance. We didn't get the job done," he said.
Harvick pointed to a 20th-place finish at Martinsville in the first race in the Chase Round of 8 as putting him in too big a hole to climb out of during subsequent races at Texas, where he finished sixth, and Phoenix. He said he was proud of his team's efforts all season long, which included some ups and downs but ultimately has produced four wins.
"I'm just really proud of everybody for the effort that they put in," said Harvick, the 2014 Sprint Cup champion. "It was a very challenging Chase for us for all the mechanical failures and situations that we had going on. We kept rebounding and winning races and (Sunday) we were a lap down and came back to have a chance at the end. That says a lot about the character of our race team and we just came up short this year."
Busch, whose only win of the season came in early June at Pocono, said his No. 41 SHR team led by crew chief Tony Gibson knows exactly what it needs to work on next season.
"The long run speed is where our Achilles' heel was these last few Chase races," he said. "It's a little disappointing. Maybe we can pinpoint that as our exact problem and figure out how to fix that, but I'm really proud of Tony Gibson and everybody that worked on these cars all year long from Stewart-Haas Racing."