Harden scores 42, Terry nails key 3, and Rockets still fall to Jazz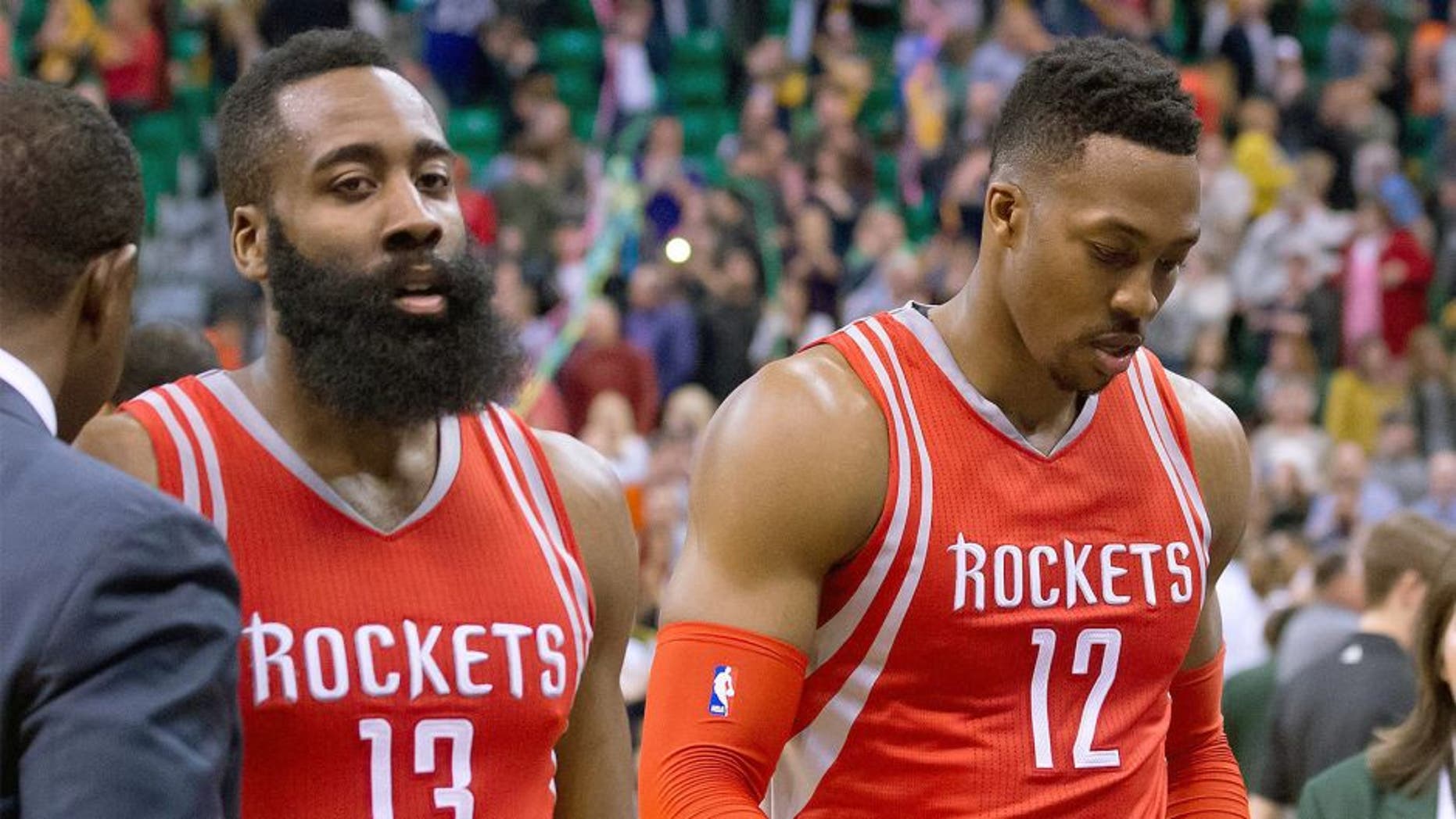 How bad are things going in Houston right now?
In the days leading up to last week's trade deadline, reports surfaced that star players James Harden and Dwight Howard tried to get the other one traded. That didn't work so when the deadline passed, the two were still teammates.
Fast forward to Tuesday night and the Rockets found themselves sporting a .500 record and sitting half a game ahead of the Jazz for the Western Conference's final playoff spot -- and they were in Salt Lake City to play their pursuers.
Harden dropped 42 points and tied Stephen Curry in 40-point games. Jason Terry hit a 3-pointer with less than 11 seconds to play to force overtime. Houston converted 16 Utah turnovers into 23 points -- in the first half.
And the Rockets left Vivint Smart Home Arena no longer in the playoff picture, 117-114 losers.
Gordon Hayward scored 14 fewer points than Harden, but received plenty more help from his teammates as Utah improved to 28-28 on the season and leapt into that No. 8 spot.
The first tiebreaker for a two-way tie is head-to-head winning percentage. The Rockets are now 2-1 against the Jazz this season, so at least they have that going for them.
"It is not about where we are in the standings, it is about us continuing to fight and play the right way," Harden, who tied Curry with his eighth 40-point game of the season, told the media after the game. "We made some tough shots. Rodney Hood made a couple of tough 3s off of the dribble. It is a tough loss for us but we played well and competed at a high level.
"It was definitely intense. It was a great atmosphere. It was a tough one and we have to bounce back on Thursday (at Portland)."
Tuesday night was ultimately about the Jazz and their refusal to allow the Rockets to run away with the game.
Utah jumped out to a 34-23 lead at the end of the first quarter thanks to a 15-2 run. But the Rockets outscored the Jazz 28-22 in the second quarter, and rallied in the third behind a spectacular effort from Harden. But Trey Burke hit three 3-pointers in the fourth quarter as the Jazz retook the lead.
In overtime, Rodney Hood made a 3 over Dwight Howard with 51.9 seconds left to give the Jazz a 115-112 lead. Harden followed with a layup, but Derrick Favors' putback pushed the margin to 117-114 with 11.8 seconds to go.
Favors finished with 19 points, 12 rebounds and three blocks. Howard had 13 points and 16 rebounds.
The Associated Press contributed to this report