Happy Hour practice results for Go Bowling 400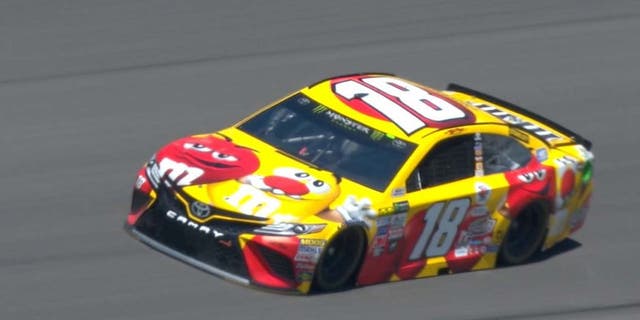 Practice is now complete for Saturday nights Go Bowling 400 Monster Energy NASCAR Cup Series race at Kansas Speedway following the second of two sessions at the 1.5-mile track on Friday.
Tops in the 85-minute practice was defending race winner Kyle Busch, who ran a best lap of 187.963 miles per hour in his Joe Gibbs Racing Toyota.
Second fast was Cup Series points leader Kyle Larson at 187.833 mph. Larson was followed by Martin Truex Jr., who topped the speed charts in the morning practice.
Rounding out the top five were Ryan Blaney and Brad Keselowski. Dale Earnhardt Jr. finished ninth.
There was one major incident and it involved points leader Larson.
Just six minutes into practice, Larson got loose in Turn 2 and hit the wall, forcing his Chip Ganassi Racing crew to pull out the teams back-up car. Later in the session, Larsons teammate, Jamie McMurray, brushed the wall, but his damage was considerably less.
Larson said hed been wrestling with his car all day long. I felt like I was going to crash every lap since we unloaded today, said Larson. We only made like seven laps the first practice because I was spinning out every time.
And it was a problem that was not confined to Larson.
Ive been extremely loose all day. I think a lot of people have, said Larson. I dont know why we are all fighting loose, but we made some big adjustments between the two practices there and I was still really loose.
Also notable in practice: Carl Long practiced for a Cup Series race for the first time since 2009, when he was fined $200,000 for running a borrowed engine that was 0.17 cubic inches too large during practice for the Sprint Showdown last-chance all-star qualifying race at Charlotte Motor Speedway.
Long was 39th of 39 drivers in terms of speed, more than three seconds off the top lap turned in the session. But he made it on track, which is what matters.
Cup qualifying is tonight at 6:45 p.m., with the race on Saturday night, with coverage starting at 7 p.m. ET. Both qualifying and the race will be on FS1.
For complete Happy Hour practice results, click here.