Happy anniversary to Jose Bautista and the greatest bat flip of our time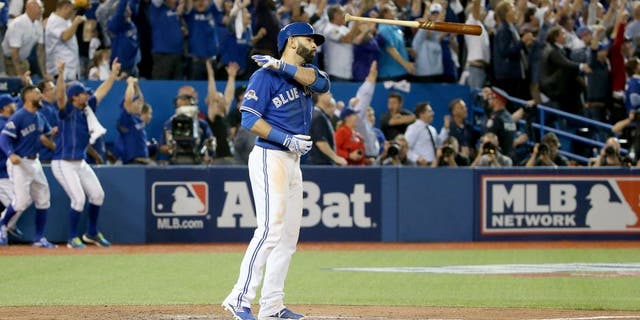 Love it or hate it, it was the most iconic single moment of the 2015 baseball season -- Jose Bautista, in the biggest at-bat of his life, hammering the heart and soul out of a baseball and then chucking his bat clear across Canada.
It was one year ago today -- Oct. 14, 2015 -- in Game 5 of the American League Division Series between Bautista's Blue Jays and the Texas Rangers. Toronto had lost both of the first two games at home before rallying in Arlington to win two and bring the series back to Canada for the decisive game. Trailing 3-2 entering the bottom of the seventh, the Blue Jays tied the game thanks largely to a string of Rangers errors. Bautista then came up with runners on first and third and hit the shot heard around the MLB world:
The demonstrative bat flip has its detractors -- because sportsmanship, unwritten rules and all that -- but the first year of its history has been largely kind to the spectacle. It's been an ongoing source of entertainment.
After the hit and the flip, a raucous celebration -- one that saw the crowd hurl beer cans and other objects onto the field -- rained down at Toronto's Rogers Centre and led dugouts to clear for a brief scuffle when Rangers pitcher Sam Dyson and the Jays' Edwin Encarnacion exchanged some words.
The preamble to all that emotion was a freak incident in the top of the seventh. With the game then tied 2-2 and Rougned Odor on third base for the Rangers, Jays catcher Russell Martin went for a routine throw back to his pitcher, but it deflected off the bat of batter Shin-Soo Choo and trickled into the field. Odor ran home for the go-ahead run. There was some speculation that the ball should've been ruled dead and the run not counted, but the play was upheld on review, angering the already frenzied crowd.
Here's the entire crazy bottom of the seventh inning:
The Jays went on to win 6-3 and reach the American League Championship Series, where they would lose to the Kansas City Royals in six games. But the bat flip is forever.
The Jays, of course, are back in the ALCS this year, and are in Cleveland to face the Indians in Friday night's Game 1. Here's to more bat flips in our future.