Grading Tottenham's signing of Vincent Janssen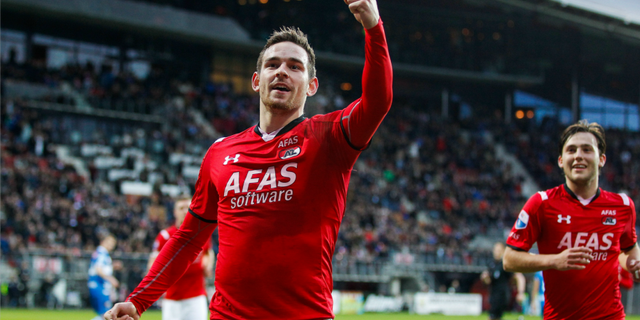 NEWYou can now listen to Fox News articles!
Tottenham Hotspur made signing a striker one of their top priorities. They knew that they needed someone to spell Harry Kane, or even play with him, as they embarked on their first Champions League campaign in six years. And on Tuesday they got him, buying Vincent Janssen from AZ Alkmaar for a reported €22 million.
Janssen is coming off an incredible season in which he went from a €500,000 signing last summer to an Eredivisie-best 27 goals and a call-up to the Netherlands national team, where he quickly scored three goals.
It became clear early on in the summer that Janssen was Spurs' favored striker on the market. AZ were understandbaly willing to sell, knowing that they could make a gigantic profit on the player. But they wouldn't let him go for cheap. Spurs made repeated offers for him, all below €20 million, but AZ held firm on their valuation and finally got Tottenham up to the price the Dutch club wanted. That's impressive no matter what, but it's especially good work considering they were going up against Daniel Levy, the Spurs chairman who is known as one of the best negotiators in the sport and usually gets the better of deals.
With Spurs going into the Champions League and ready to cash in on the Premier League's new TV deal, though, they can afford Janssen at €22 million without much issue. If Janssen is as good as Spurs think he will be for them then they got a steal, too.
Janssen is just 22 years old and is already a good finisher with both feet, as well as his head. He's not the super dynamic creator who is going to tear defenses apart with brilliant passes or run by defenders, but he can find space and finish from anywhere in the box, to go along with the athleticism to drag out wide. He's also a willing defender, pressing up high and doing the running necessary to fit into the Tottenham system.
In a lot of ways, Janssen is similar to Kane. He's not as good as Spurs' star striker, but he comes from the same mold and plays the same style. That will make it easy for him to fit in as the system Spurs use is already suited to that type of play. Janssen's versatility also makes it possible for Tottenham to use him and Kane together up top, adding another approach to Mauricio Pochettino's options.
There will be questions about whether Janssen can transition to the Premier League. A lot of players have come from the Eredivise, where they were top scorers, and flopped elsewhere, having only shined against the weak defenses of the Dutch league. But at the same time, some truly excellent strikers have been products of the league. Spurs are betting that Janssen is the latter.
Grade: B
Janssen is a good player and fills an obvious need for Spurs. That he's similar to Kane makes him a very good fit for Tottenham too, and he should have no problem with Pochettino's system. His work rate with and without the ball, as well as finishing ability, make him precisely what Pochettino wants from his strikers. There is still the risk that he's simply a product of the Eredivisie's weak defending and Spurs probably aren't happy that they had to pay as much for him as they did so it's not the ideal value, but Janssen is the man Tottenham wanted and they got him.
MORE FROM FOX SOCCER