Gold Cup Preview: For US, There's Nothing like Home Cooking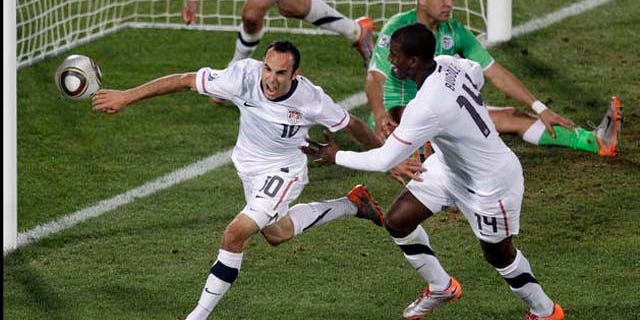 There's nothing like home cooking.

Just ask the U.S. National Team when it plays as the host team in the CONCACAF Gold Cup.

The Americans are a stunning 37-4-6 in Gold Cup games played on U.S. soil, losing only to the elite, such as archrival Mexico and Brazil, when guest teams were allowed in the competition.

While it is certainly nice to play at home, the U.S. deploys a pretty decent team on the field as well and the Americans find themselves as co-favorites to meet El Tri in the final at the Rose Bowl on June 25.

After all, you can't argue with six consecutive appearances in the World Cup.

The Americans parlayed its 2007 Gold Cup title into preparations for the 2010 World Cup in South Africa as the champion represented CONCACAF in the 2009 FIFA Confederations Cup.

That's something they would love to again for the 2013 Confederations Cup in Brazil. They would have to overcome their archrival, Mexico, in the final at the Rose Bowl on June 25.

"We certainly look at this Gold Cup as carrying that extra bit of importance," U.S. coach Bob Bradley said.

The Americans still remember the 5-0 shellacking they took from Mexico in the 2009 Gold Cup final. Because the U.S. had just competed in the Confederations Cup, it was forced to use essentially a B team, but a loss is a loss.

"That was a final where there was a lot at stake, a great crowd at Giants Stadium and it was a tough way for us to finish and that sticks with us," Bradley said.

So the U.S. has several motivations entering the tournament.

It also faces a number of challenges. Let's start with the team's strengths.

Whether it has been guarding the net for Everton (England) or for the U.S., Tim Howard has established himself as one of the top goalkeepers in the world. His understudies, Marcus Hahnemann and Nick Rimando are solid, but Howard is expected to start every important game, if not every match.

Heaven help the U.S. if Landon Donovan (Los Angeles Galaxy) is injured. He is the team's most talented and most important player. As he demonstrated at last year's World Cup, Donovan is the team's clutch performer (please see his dramatic, 11th-hour goal in the 1-0 win over Algeria). Donovan likely wil play on the left side of midfield.

Clint Dempsey (Fulham, England), a gritty player who also can play at forward, has proven to be more than capable and dangerous on the right flank, although his physical play sometimes can get him into trouble.

Saying that, the U.S. has many competent midfielders, particularly ones that can play in the middle of the park. The Americans lack another creative force to play off of Donovan or be his deputy.

Expect coach Bradley to call on Michael Bradley (Aston Villa, England), his son, to man one of the central midfield roles. His partner most likely will be Maurice Edu (Rangers, Scotland). Benny Feilhaber (New England Revolution) , who can play several midfield roles, is injured and might be taken off for Alejandro Bedoya (Örebro, Sweden). Jermaine Jones (Blackburn Rovers) will finally get an opportunity to show the team what he can do.

Bradley must answer several questions about his defense. He wants to win the competition, but he also needs to groom players who can perform during 2014 World Cup qualifying and beyond.

Assuming the U.S. reaches the 2014 World Cup, several backline players might be getting a bit long in the tooth and Bradley might not want to use all of them at once in the lineup. So, he could give a promising newcomer such as Tim Ream (New York Red Bulls) an opportunity to see some action while under fire.

Team captain Carlos Bocanegra (Saint-Etinne, France), who is 32, has been reliable in the middle or on the left side. Oguchi Onyewu (FC Twente, Belgium), 29, is another mainstay in the middle. When healthy, Steve Cherundolo (Hannover, Germany) has been steady on the right flank, although he is 32.

But a bigger question mark looms on the forward line.

Jozy Altidore (Bursaspor, Turkey) has the tools, but he hasn't gotten the playing time in Europe. He did not score in last year's World Cup. Altidore will be pushed by 18-year-old phenom Juan Agudelo (Red Bulls), who has acquitted himself well in four internationals (two goals, including the equalizer in a tie with Argentina in March, entering the Spain friendly on Saturday).
Agudelo has demonstrated remarkable poise, skill and experience for a youngster. The big question is whether he will blossom into a consistent goal-scorer.

Chris Wondolowski (San Jose Earthquakes), Major League Soccer's Golden Boot winner last year, is another candidate to start, although he is inexperienced internationally (one appearance), especially for a 28-year-old.

One wildcard is Freddy Adu (Rizespor, Turkey), who was called into the team after a two-year absence. Adu's problem is similar to Altidore's -- finding a club team to play on a regular basis. One of Adu's strength is his free-kick ability.
During the CONCACAF Olympic qualifying three years ago, Adu transformed several free kicks into goals. He could be a late-match option to add a little zest to the attack in a tied game.

On paper, the U.S. should be able to get through the opening round with relative ease against Canada, Panama and Guadeloupe in Group A. The most intriguing confrontation should be match dubbed "the Border War" between the U.S. and Canada in Detroit on Tuesday, June 7. If everything falls into place, the U.S. hopes to meet another neighbor, this one to the south in Mexico come June 25.

Michael Lewis, who has covered international soccer for more than three decades, can be reached at SoccerWriter516@aol.com.
Follow us on twitter.com/foxnewslatino
Like us at facebook.com/foxnewslatino