Giovani dos Santos Hits Game-Winner, Chicharito Scores Yet Again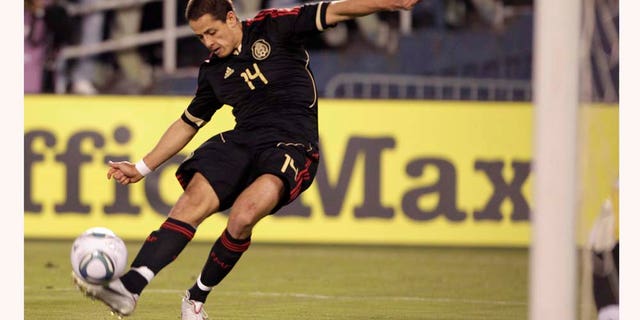 A weekly recap of how Mexican internationals fared over the weekend.
Loaned by Tottenham Hotspur earlier this year, dos Santos capped a comeback by striking for the game-winning goal with a header from close-range in the 75th minute to lift Racing to a 2-1 victory over Espanyol in Spain's La Liga on Sunday.
Pablo Osvaldo's penalty kick gave Espanyol a 1-0 lead in the 37th minute, but Gonzola Colsa equalized 13 minutes later to set up dos Santos' heroics.
Dos Santos, who is rounding into form, is expected to be a vital part of El Tri's defense of the CONCACAF Gold Cup this summer. The attack-minded midfielder had not seen much action with the English Premier League club, but he has rediscovered his game and touch in Spain since his Jan. 31 loan.
Racing will play Levante on Sunday.
Javier "Chicharito" Hernández
Meanwhile, Chicharito continued his relentless target practice in the EPL as he connected for his 17th goal of the season in United's 4-2 comeback win over West Ham United on Saturday.
ManU found itself trailing at the half, 2-0, on two penalty kicks before rallying behind a remarkable 15-minute hat-trick by Wayne Rooney.
Hernández, who replaced Patrice Evra at halftime, put an exclamation point and gave the EPL leaders some breathing room with his 84th-minute goal.
Chicharito scored from close range after Ryan Giggs' cross deflected through the legs of two opposing defenders.
"When Chicharito came on, he gives you that lightning pace and he's threatening all the time behind them," United manager Sir Alex Ferguson told Sky Sports. "So it meant they were going right back towards their box and that left us a lot of space to operate."
Hernández and his teammates will take on Fulham this Saturday.
Carlos Salcido
The left fullback helped Fulham to a 3-0 clean sheet over Blackpool at home in the EPL Saturday. Salcido put some early pressure on the visitors, helping Fulham take advantage. He blocked a shot. He had some problems early in the second half when James Beattie held off the Mexican and fired a shot off the outside of the goalpost. Fulham plays at Manchester United on Saturday.
Andres Guardado
Even though he rejoined Deportivo Coruna on Thursday, Guardado started Sunday's 2-1 victory over Mallorca in Spain's La Liga. Guardado started the scoring sequence of Deportivo's second goal as he recovered the ball. Three passes later, Lassad Nouioui scored for Coruna, which next plays at Malaga FC on Sunday. Guardado was awarded a yellow card for protesting the referee's non-call of a penalty kick in the 45th minute.
Héctor Moreno
He started at central defense and went the full 90 for AZ Alkmaar in its 1-0 triumph over Feyenoord in the Dutch First Division on Saturday.
Efraín Juárez
He did not play because Celtic's Scottish Premier League game at Inverness Caley Thistle on Saturday was postponed due to a water-logged field. The game has not been rescheduled yet. Celtic hosts St. Mirren on Saturday.
Carlos Vela
On loan from Arsenal, Vela did not get off the bench of West Bromwich Albion's 2-1 stunning victory over Liverpool on Saturday. WBA started the weekend in 16th place and climbed to 13th place in the EPL.
Francisco Javier Rodríguez
Rodríguez came on for Marcelo in the 68th minute for PSV Eindhoven in its 2-0 loss to FC Twente in the Dutch First Division on Saturday. Maza allowed Theo Janssen to get around him on a counterattack for the hosts' second goal in the 82nd minute. PSV fell out of first as it trails FC Twente by a point with five matches remaining in the season. PSV hosts SC Heerenveen on Sunday.
Jonathan dos Santos
Barcelona B did not pay this past weekend. It will host Granada on Friday.
Rafa Márquez
The Mexican National Team captain played the entire match at central defense for the Red Bulls in their 1-1 tie with the visiting Houston Dynamo, although he was involved with the equalizing goal in the 50th minute. Dynamo goalkeeper Tally Hall started the sequence with a long goal kick that Will Bruin headed down the left wing. A charging Weaver beat Márquez. Goalkeeper Bouna Coundoul came out of the net, but Cam Weaver chipped him from atop the penalty area. It was the first goal the Red Bulls had allowed over three games this season.
"I thought as soon as Rafa turned, I thought he was going to get it so I yelled to him 'pass it back, pass me back the ball,' " Coundoul said. "But then I didn't see that the guy already was ahead of him so I already made up my mind to come up. Maybe I didn't come up quick enough or I should have just held on my goal line and waited, tried to make a save."
Márquez said he did not hear Coundoul say anything.
"I did not here any shouts or screams," he said. "There was a hesitation of Bouna to come off his line or to stay, He was caught inbetween."
The Red Bulls play at the Philadelphia Union on Saturday.
Francisco Mendoza
The veteran midfielder did not come off the bench for Chivas USA in its 1-1 tie at Toronto FC in MLS action on Saturday. Chivas hosts the Columbus Crew on Saturday.
Omar Bravo
Bravo served a red-card suspension from last week and did not play for Sporting Kansas City in its 3-3 draw with the Vancouver Whitecaps on Saturday due to a red card he received last week. The forward will be eligible to play against visiting Houston on Wednesday night.
Rubén Luna
The forward made his first start for FC Dallas and played the entire match in its 2-0 home loss to the Columbus Crew on Friday night. Luna's best scoring opportunities came in the first half, which included headers in the 28th and 30th minutes.
Mariano Trujillo
Trujillo never got off the substitutes bench in Chivas USA's 1-1 draw in MLS play at Toronto FC on Saturday.
Michael Lewis, who has covered international soccer for three decades, is a frequent contributor to Fox News Latino. He can be reached at SoccerWriter516@aol.com.
Follow us on twitter.com/foxnewslatino
Like us at facebook.com/foxnewslatino