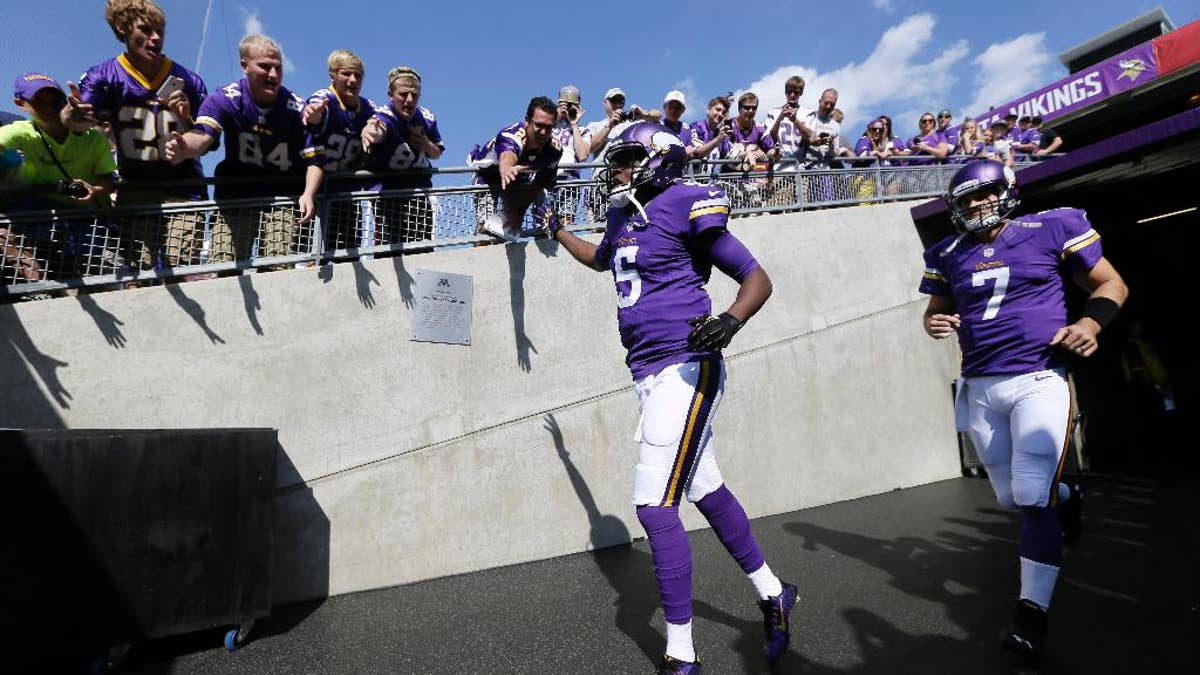 EAST RUTHERFORD, N.J. – After a disappointing season that ended with a broken leg in the regular-season finale, New York Giants tackle Will Beatty is back in form and smiling a lot this week.
Not only is the six-year veteran playing well, he'll get a chance to go against former mentor Osi Umenyiora on Sunday when the Atlanta Falcons (2-2) come to MetLife Stadium to play the Giants (2-2).
Beatty spent most of his first four seasons going against Umenyiora in practice, first providing scout-team looks and eventually squaring off as starters. It was Beatty on the left end of the offensive line and Umenyiora on the right end of the defensive line.
The relationship ended last season when Umenyiora signed with the Falcons as a free agent. The friendship is still there.
"You look forward to the big games and the good matchups," Beatty said Wednesday after practice. "This is almost a division game for me going against him because of how well I know him. Let's see how much he changed. I get to show him how much I changed and how much I grew."
Beatty broke his right leg in late December and there was a lot of concern about whether he would be ready for the start of the season.
The 29-year-old who signed a five-year, $37 million contract in February 2013 worked hard in the offseason to get ready and it's been paying off.
"There is still a lot of improvement, but I do feel good," Beatty said. "I feel like going out there and just being with my teammates is my focus."
Umenyiora said that Beatty was always a good player, and now he is doing as well as any left tackle in the league.
"I am proud of him, proud to see the type of player he has become, because he was like that from the beginning," said Umenyiora, who spent his first nine seasons with the Giants. "Last year, I left last year, so obviously he didn't have anybody pushing him. That is why his game kind of slipped a little bit, but now he looked on the schedule and he sees me on there and all of a sudden he is an All-Pro left tackle again, so I am going to take credit for that. Will Beatty is just a really good guy."
Beatty laughed when told of Umenyiora's comment. He also took the blame for his play last season, saying he did took much thinking instead of just playing and enjoying the game.
"After I broke my leg my main focus was to just walk again and get back out there," Beatty said. "If I got that chance I wanted to make sure I enjoyed it and took advantage of it as long as I could because you never know when the last play is going to be. That's been my mindset this year, go out there and play and enjoy yourself."
The Giants have done that the past two games, beating Houston and Washington by a combined 75-31 margin.
NOTES: First-round draft pick Odell Beckham Jr., practiced on a limited basis and caught a deep pass. The receiver, who has battled a hamstring injury, hopes to make his NFL debut this weekend. ...LBs Jon Beason and Devon Kennard and punter Steve Weatherford also practiced on a limited basis. The Giants had no one sit out practice. "The energy level that we had at practice today was amazing," receiver Victor Cruz said. "Guys are just ready to go, ready to compete, and it is good to see. It gets me motivated, it gets me pumped up, and I am excited to finish out this season on a good note." ...Giants DE Mathias Kiwanuka played at Boston College with Falcons QB Matt Ryan. "He's got a masterful control of the huddle and he understands how to check protections and all that kind of stuff," Kiwanuka said.
___
AP NFL website: www.pro32.ap.org and http://twitter.com/AP_NFL