Giants coach Ben McAdoo doesnt want Eli Manning developing Davis Webb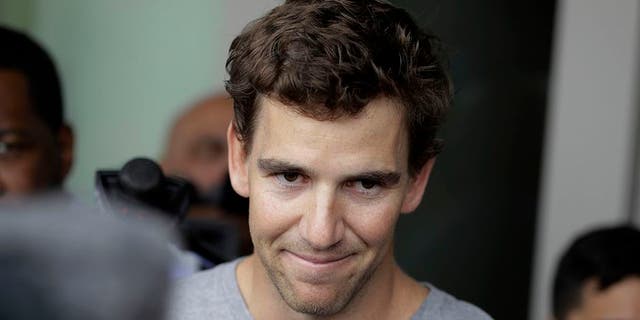 Since taking over as the New York Giants starter in 2004, Eli Manning hasnt missed a single game. Based on past history, thats not likely to change in 2017, even with there being a new quarterback in the room.
The Giants drafted Davis Webb in the third round, hoping to land Mannings successor in a few years. Although hell probably be Elis stiffest competition since New York took Ryan Nassib in the fourth round which isnt saying much the Giants dont want Manning focusing on the guy behind him.
They want his eyes looking squarely ahead.
"Eli needs to do his job. He needs to focus on getting ready to go out and play at a high level this year and being a good teammate like he always is," McAdoo said, via NJ.com. "I'm sure the young guy is going to have some questions for him, but it's not Eli's job to get anybody ready to play this season and it's not Eli's job to go out and develop another quarterback. That's not in his job description. His job is to prepare and perform."
Its interesting that McAdoo would come out and say unequivocally that Manning shouldnt worry about developing Webb. Obviously, no one will blame McAdoo for saying what he did because this is Mannings team, but coaches typically want their starter to help groom a young backup.
Icon Sportswire (A Division of XML Team Solutions) All Rights Reserved contact: info@iconsportswire.com http://iconsportswire.c
Webb wont challenge Manning this season, or probably even next, but the Giants do think highly of him. Throughout the pre-draft process, they were open and honest about wanting to address the future at quarterback with Manning being 36 years old.
General manager Jerry Reese hopes Webb can sit behind Manning for two or three years before taking over as the starter, indicating that Mannings time is nearing its end. The sooner the Giants can have Webb ready to start, the better.
McAdoo says there's going to be a lot of competition in the quarterback room, which also includes Josh Johnson and Geno Smith, but admits Webb has a "long way to go."
"I think there's a lot of competition going on in the quarterback room right now," McAdoo said. "Eli is going to get pushed from Josh and Geno and we have a young guy (Webb) coming in who's going to push for the No. 2 spot, but he's got a long way to go. There's a lot of competition."
AP | Copyright The Associated Press. All rights reserved.