Germany team back home after Paris terror attacks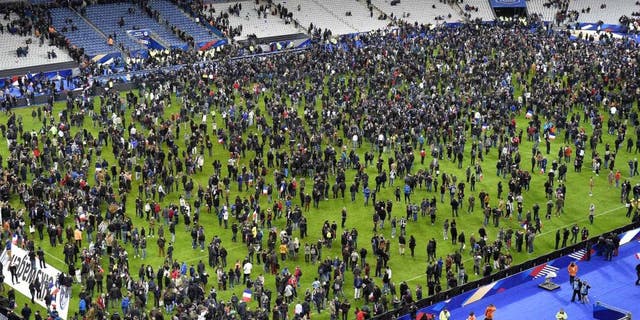 NEWYou can now listen to Fox News articles!
BERLIN --
The German national soccer team was back home Saturday after spending Friday night at the Stade de France stadium because of the terror attacks in Paris.
The team landed back in Frankfurt on Saturday morning, the German football federation (DFB) said. The World Cup winners had been due to return to their hotel after the friendly game against France but stayed inside the stadium after two explosions went off outside during the game.
''We're happy we could organize the departure. Everything else will be decided later,'' DFB security chief Hendrik Grosse Lefert said.
Germany is due to play the Netherlands in Hanover on Tuesday but has delayed its journey. All team activities scheduled for Sunday have been cancelled.
DFB vice-president Reinhard Rauball says a decision on whether the game goes ahead or not will be made later.
''We'll sleep on it for a night and then see how we go about or don't go about things on Tuesday. But I think you can't give way to terror,'' said Rauball, who is acting as one of two caretaker presidents of the DFB.
The other, Rainer Koch, said ''we have to respect the requirements of the security authorities. Basically I think the DFB and national team have a social and political responsibility to send a clear message that our constitutional state will not give in to terror.''
A decision on the game is due Sunday.
Team manager Oliver Bierhoff said the squad's ''thoughts are with the victims and their families.''