Gasol honors ex-mate Bryant, before Bulls hammer Lakers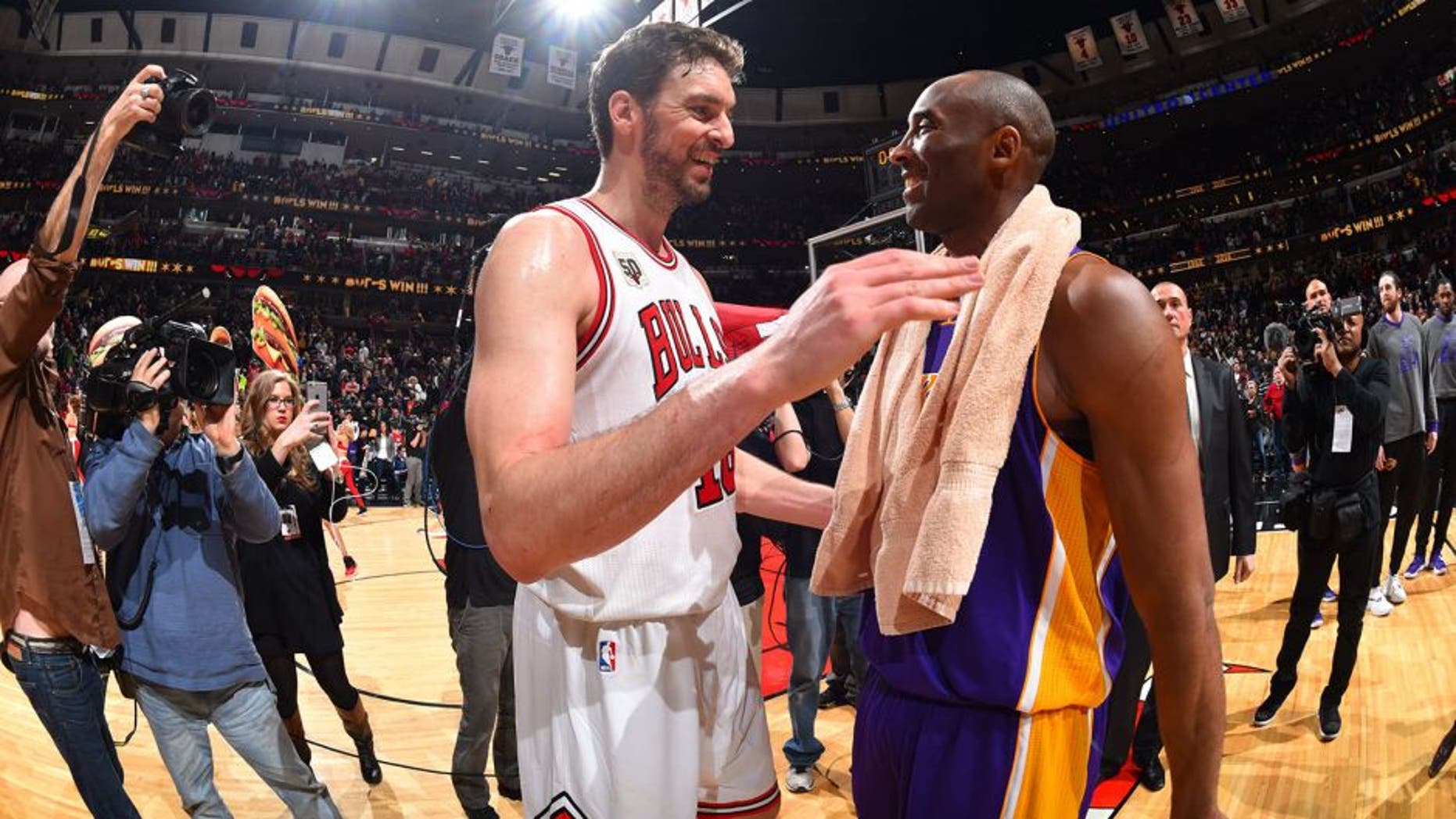 As the Kobe Bryant farewell tour continues, one of the most emotional spots left on the Lakers schedule was surely Sunday at the United Center.
Chicago, home of Michael Jordan. Where Phil Jackson won six NBA titles before winning five more with Bryant in Los Angeles. The city Bryant infamously said he was headed during the most contentious time of his Lakers career.
And now, in 2016, home of Pau Gasol, who won a pair of titles with Bryant in 2009 & '10 in purple and gold.
Sure enough, Gasol honored his ex-teammate and future Hall of Famer, introducing Kobe one last time to the Windy City faithful before the game:
Here is a better view of Gasol's words for Bryant:
Then ... the Lakers do what they do nearly every game this season -- served up an easy W for an opponent.
Bryant scored 22 -- one more than Gasol -- on 8-of-20 shooting (a good night by 2016 Bryant standards). But the Bulls shot better from the field and had more than double the assists the Lakers had en route to a 126-115 win.
"Not many players have played 20 years in this league, especially as aggressive as he plays every night," Gasol told the media of Bryant after the game.
He has received similar tributes in other cities during his farewell tour, but Bryant admitted this one was different because it's where Jordan, his idol, played for so long.
"It's always been different from the first time I played here," Bryant told the media in Chicago. "There's such an air. You can feel the electricity in the building, to feel the championships and the history."
The game wasn't without its drama, however, as a late Lakers comeback brought Bryant off the bench to the delight of the crowd chanting his name to come back in.
Before Bryant returned, Los Angeles made a run, cutting the lead to 108-105 on Nick Young's 3-pointer midway through the fourth. The Lakers, though, couldn't get any closer as the Bulls hung on.
Bryant returned with 3:08 remaining and the score 117-110. He left with 45.3 seconds left with the Bulls up 124-113.
But if you ask Bryant, this may not be the last time he crosses paths with Gasol on the court.
"That's the last time I'm going to face him," Bryant said. "That's weird ... unless we play pick-up ball in Barcelona somewhere."
And at least the game ended like this:
The Associated Press contributed to this report