Gaborik: 'I should have seen Hank earlier'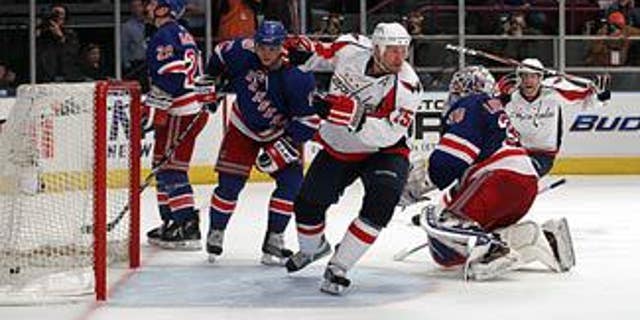 NEW YORK -- To Marian Gaborik's credit, he didn't try to pass the blame for Jason Chimera's goal in double overtime that gave the Washington Capitals a 4-3 victory Wednesday night at Madison Square Garden.
Gaborik raced back into his zone to clear a rebound out of harm's way, but at the same time, he prevented goaltender Henrik Lundqvist from covering the puck. The puck hit Chimera and settled in the crease for him slam home to give the Capitals a victory in Game 4 and a 3-1 lead in their best-of-7 Eastern Conference Quarterfinal series.
"I should've seen Hank earlier," Gaborik told NHL.com. "I saw the puck. I don't know if it was a rebound or something, but I saw it in front and just tried to clear it. I didn't see Hank went for it and when I just cleared it, I saw him at the last second. I tried to clear it, but I didn't see Chimera. I guess it hit him in the stomach because he was right there.
"I don't know. I should've just…I wish I would've seen Hank quicker and go for it."
The play started when Chimera had his shot blocked by defenseman Bryan McCabe. The puck squirted toward Lundqvist, who lunged to cover it. But the miscommunication capped a nightmare of a game for the Rangers, who surrendered a three-goal lead in the third period.
"Hank is ready to tie it up. It's just a fluky goal," Rangers coach John Tortorella said. "It's just a nothing play that turns into something. Obviously, something pretty big."
Chimera's goal pushed the Rangers to the brink of elimination, but it also ruined Gaborik's best game of the series.
Gaborik scored at 13:40 of the second period to give the Rangers a 2-0 lead, and his face told the story of a player who was enjoying the sweet relief of his first goal in 13 games. He had the second-most time of any Rangers forward -- 28:21 -- and played a physical game as well, delivering four hits.
But ending his scoring drought lost a lot of its luster due to the rough finish.
"It's always nice to score," Gaborik told NHL.com. "Momentum was on our side. Then in the third period, they came out and tied it. We talked after the third that we have to keep going and had a couple of chances in overtime.
"Just a bad goal at the end there."
Instead of Gaborik standing at his locker after the game feeling good about himself and the team entering Saturday's pivotal Game 5 at Verizon Center, the sight of Lundqvist sitting at his locker with his head in his hands will be the lasting image of a Game 4 the Rangers let slip away.
The Rangers entered the game with a record of 29-0 when leading after two periods this season.
"I don't know what to say," said a dejected Lundqvist, who made 49 saves and a game-saving stop on an Alex Ovechkin breakaway in the first overtime. "I have to look at it. I just tried to freeze it and nobody's there. Gaborik tried to put it behind the net. I don't know what to say. It's just really frustrating."
Follow Dave Lozo on Twitter: @DaveLozo