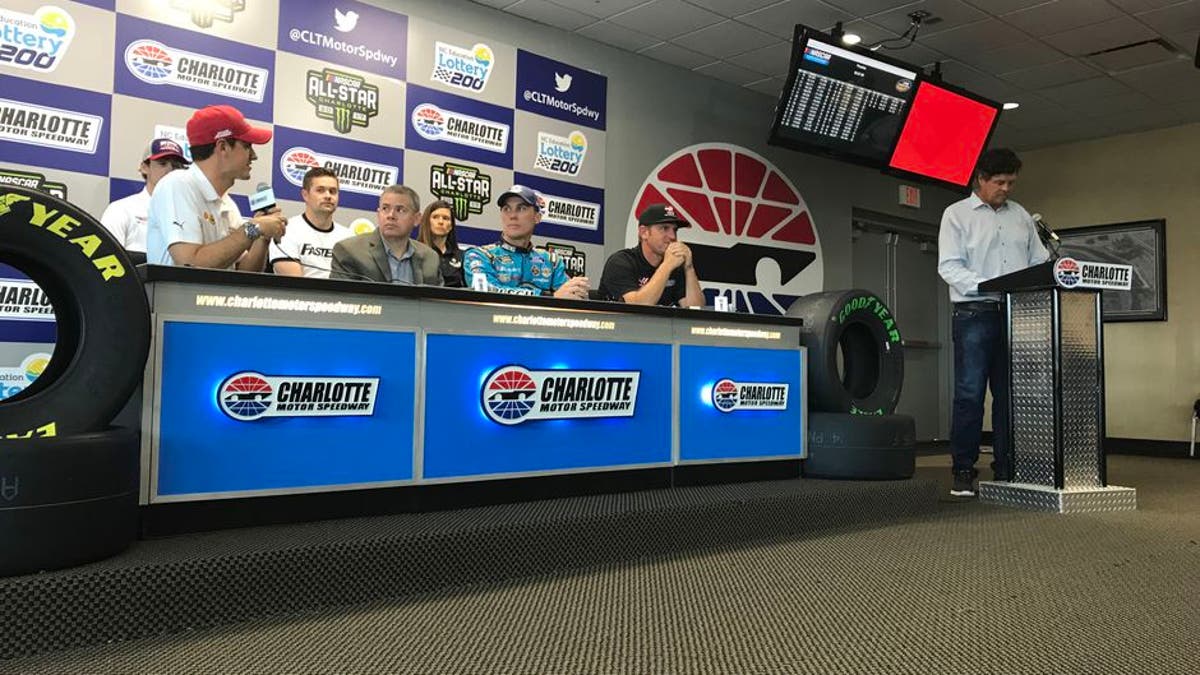 CONCORD, N.C. -- The more the merrier for FOX Sports when it comes to placing the expertise of active Monster Energy NASCAR Cup Series drivers in the broadcast arena.
In what is believed to be an unprecedented move in national sports broadcasting,FOX Sports announced that its live broadcast of theJune 10XFINITY Series race from Pocono Raceway(1 p.m. ET on FOX)will be called entirely by active Monster Energy Cup drivers.
Therace broadcastisthoughtto be the first time a nationally televised live sporting eventhas featuredan on-air teamcomprisedstrictlyof athletes actively competing in that sport.
"The entire race is going to be called completely by active Monster Energy NASCAR Cup Series drivers," said regular FOX Sports NASCAR analyst Michael Waltrip. "They're going to take over."
The impressive broadcast lineup of active Cup drivers includes Kevin Harvick, the 2014 Cup champion and two-time NASCAR XFINITY Series champ who will serveas the play-by-play announcerfor the race alongside analysts Joey Logano and Clint Bowyer. All will be in the broadcast booth high above the track.
Manning pit-road coverage during the race will be Ryan Blaney, Erik Jones and Ricky Stenhouse Jr., while Danica Patrick and Denny Hamlin will team up tohostFOX race coverage from the Hollywood Hotelmobile studio.
This is something FOX Sports has talked about doing for a long time, saidJohnEntz, FOX Sports President& Executive Producer,Production.Several of these competitors alreadyhavejoinedus in the NASCAR XFINITY Series booth and done a heck of a job, and we see a lot of promise in the newcomers.Regardless of their TV experience, we have one goal for all -- go out and have a blast. As long as no one sets fire to the FOX Sports booth or pulls the plug that knocks us off the air, the drivers have free rein.
Harvick,Bowyer,Hamlin,Loganoand Patrickhave served as driver analysts for FOX Sports coverage of the XFINITY Series racesat some pointsincethe network began rotating prominent Cup Seriesdriversin the boothbeginning withthe2015 season.
Additionally,BlaneyandStenhousehavecontributed asdriver analysts on FS1s NASCAR Race Hub, the sports most-watched daily NASCAR news and information program.Pocono will mark Jones debut as part of a national race broadcast.
Still slated to offer analysisin the FOX Sports XFINITY booth in 2017,alongside regularFOX Sportsbroadcasters Adam Alexander and MichaelWaltrip,areBowyerat Charlotte on May 27 (1 p.m. ET on FS1) andLoganoat Dover on June 3 (1 p.m. ET on FS1).
"Pocono definitely is going to be different, butI am looking forward to the challenge andthe fun its going to be for everyone, said PamMilller, XFINITY Series race producer for FOX Sports.For the most part, this group has broadcasting experience, so the goalwill be to keep the telecast movingbetween all the personalities andmaking sure every drivers unique views and personal experiences come through on the air.
We want the viewer to feel like they aresitting with a group of friends having a racing conversation.These friendsjust happen to compete on the track each week."
The friends and fellow competitors have been active participants in FOX race broadcasts all season.
"I give these guys a lot of credit," said Waltrip, a former Cup driver and two-time Daytona 500 winner himself. "They open Adam and I's eyes to so many different things. They don't just wing it. They study it, they watch film, they know what's going on and they're prepared. They bring so much to the broadcast.
"It's just an honor for me to be able to race against these guys all these years, and then be able to see the same type of passion, heart and dedication for the sport that they have on the racetrack brought to the broadcast booth."
Chase Elliott and Jamie McMurray made their FOX NASCAR booth debuts earlier this season, in addition to two appearances by Brad Keselowski.Loganohelped call the Richmond race, whileHarvickoffered analysisat Daytona,Phoenix, Bristol and Talladega, as well as for the Camping World Truck Series stopat Martinsville.
Harvickalsois scheduledasananalyst for theupcoming Truck Seriesraces at Eldora Speedway and Talladega Superspeedway. He said the goal for the all-driver broadcast team is to have fun as well as keep viewers of the Pocono race well informed at home.
"I think that's the fun thing about FOX," Harvick said. "When you screw up, you poke fun at yourself or each other. That's definitely going to be an element of the broadcast that comes into play, where we laugh and make fun of ourselves and each other."
In appreciation of the drivers participation, FOX Sports willmake a donationto each drivers individual foundation or charity of choice.
"We always talk about our sport being the most fan-friendly and interactive sport that there is," Harvick said. "I think this is just another element that shows how important it is to relay that message. And it helps us see it from a different perspective.
"I think we all know how important it is to be in front of our fans and speak to our fans. This is going to be great exposure for all of us."