Four Downs: Controversial ending, but Duke snaps drought in Pinstripe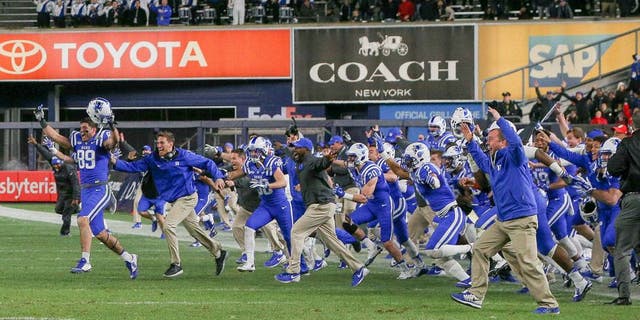 Four thoughts from Duke's 44-41 overtime win over Indiana in the Pinstripe Bowl.
1. At long last, Blue Devils' wait is over
Indiana kicker Griffin Oakes will protest -- and he may have a point given how close that attempt at a game-tying field goal in overtime appeared to be on the replay -- but Duke finally brought an end to a postseason victory drought that dates back to the 1961 Cotton Bowl against Arkansas.
It was monumental from that end, and maybe more so given that David Cutcliffe has taken the Blue Devils to four straight bowl games, but the past two years included difficult losses. In 2013, they fell 52-48 to Johnny Manziel in his Texas A&M sendoff in the Chick-fil-A Bowl, and last year, Duke suffered a 36-31 loss to Arizona State in the Sun Bowl.
The last two seasons were more impressive, as Cutcliffe led the program to an ACC Coastal Division crown in '13 and won 10 games and in '14, he had a nine-win team that was second in the division. But given the struggles this team had dealt with in winning four straight after a 6-1 start, and seeing a defense that was once in the top 10 in FBS slip to 46th, it may have been the most unexpected of those bowl games for Duke to have won.
It was taking on a Hoosiers offense that is the best in the Big Ten in averaging 490 yards and 36 points per game, and the Blue Devils were missing the backbone of their defense in All-American safety Jeremy Cash.
Cutcliffe has accomplished much in his eight years in Durham, but getting that bowl monkey off this program's back is one of his most important feats yet.
2. Sirk comes up big with legs
Thomas Sirk watched the final moments while nursing a knee injury suffered on the second play of overtime, but the Blue Devils quarterback had already put the finishing touches on a record game that he showed glimpses of this seaon.
With his arm, Sirk is never going to instill fear. In throwing two interceptions against the Hoosiers, he had five int he last four games combined, and he entered the game 85th in the nation in pass efficiency at 122.6.
His legs, though, had proven a more consistent weapon of late. He had a 109-yard day against Virginia Tech on Oct. 24 and totaled 74 yards and two scores vs. North Carolina. But against the Hoosiers, Sirk took it to another level entirely.
He ran for 155 yards -- a single-game Duke record and he surpassed Mike Dunn's single-season mark of 757 set in 1976-- and two touchdowns, and accounted for 318 yards and three scores in all, en route to sharing bowl co-MVP honors with running back Shaun Wilson, who had 282 all-purpose yards. Sirk's 5-yard TD with 41 seconds left tied the game in regulation.
Sirk will forever be chasing the likes of Clemson's Deshaun Watson in the ACC passer pecking order, but he and Duke are poised to improve if he can find more consistency as a passer.
3. Duke's special teams far more special
While Oakes chased down officials in vain and was visibly upset when he missed a 60-yard field goal at the end of regulation that may or may not have gone awry due to the placement of the laces by the holder, the Blue Devils' kicking game delivered far less drama.
Ross Martin was 3-for-3 on his field goal attempts, including hitting a 36-yarder in overtime, and hit on all five of his extra point attempts. Add in Wilson's 98-yard kickoff return for a touchdown in the fourth quarter and the Blue Devils recovering a fumble on a punt return, and special teams were one of the biggest elements in the victory.
4. Alex Rodriguez had his moment ... in Yankee Stadium
It was too good to be true, and way too fitting.
Indiana freshman running back Alex Rodriguez, who, of course, shares a name with the polarizing Yankees star, had a 10-yard TD run in the third quarter.
The moment provided a punctuation mark for a telecast that was chock full of baseball references given the stage -- and at least this one wasn't forced.
Give A-Rod this: there's at least one thing he can hold over every other star of Yankees past: none of them ever found the end zone in Yankee Stadium, old or new.
Follow Cory McCartney on Twitter @coryjmccartney and Facebook